3 DIY Patio Paving Materials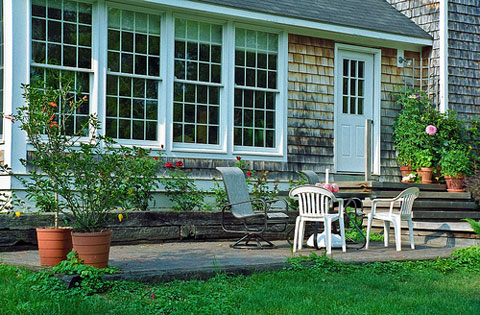 A fairly easy DIY option for putting your best foot forward outdoors is to pave yourself a patio.
One of the most common materials in doing so is brick. It's fairly easy to install (though it can get costly if you hire a pro) and you're able to get creative in a variety of patterns. A dry-laid brick patio is more cost-effective and easy for the average DIYer. Brick is a fairly low maintenance option though you'll need to keep an eye on mold or chipped pieces. A bonus for anyone that has to withstand harsh winters – brick does well in cold climates!
Another common material is concrete. Concrete tends to be versatile because of it's staining ability, which means you can apply a chemical stain to the mix to achieve a variety of custom colors. Concrete should definitely be sealed to withstand stains and the color will fade over time.

Perhaps the most popular option now is flagstone. There's a variety of styles and colors to choose from and you get the luxury of hand picking stones if you buy them from a supplier. A skilled DIYer can definitely handle this in a weekend or two, though you might need experience in cutting stone.