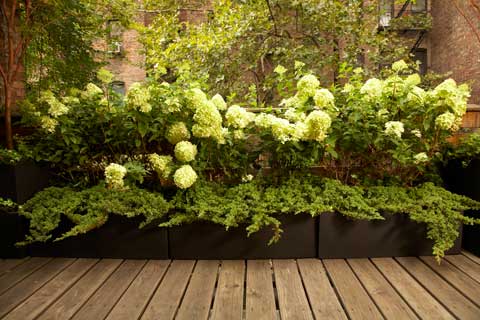 I asked my dear friend Bryan Tomczuk, owner of Bryant Landscape Design in New York City, how the heck he can make tiny Manhattan balconies look like such lush outdoor spaces. Not all of us can afford a penthouse garden, but I still wanted to know what those homeowners request in their sky high retreats. Here are Bryan's designer pointers – free of charge.
1. Clusters of pots Try groups of three with a tall, medium, and short pot. Vietnamese glazed ceramic planters (available in most garden stores) come in assorted colors and etched designs that look chic grouped together. Make sure they have a drainage hole in the bottom and be sure to add 3-4 inches of styrofoam peanuts to the bottom of the planter, cover with filter fabric (for drainage and so soil does not seep through) and then add soil.
2. Hydrangeas They come in a ton of colors and they look beautiful in pots- not just in vases. If you've got some sun, add some pots of perennials like Catmint (Nepeta mussini), Lambs Ear, Heuchera, Coreopsis, or consider perennial grasses like Blue Fescue grass or Maidenhair Grass. If you've got shade, toss in a few ferns instead.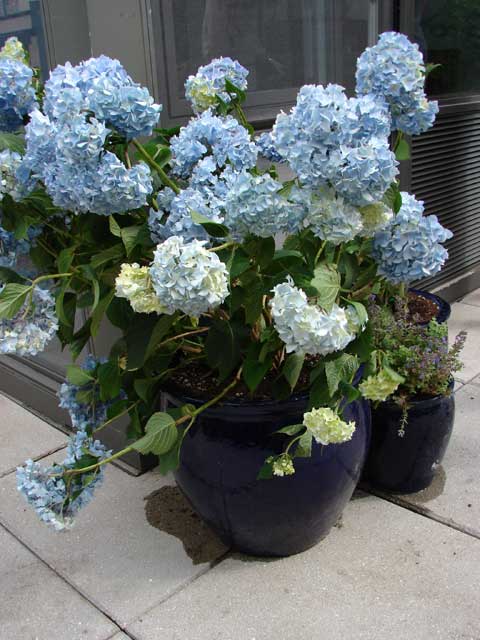 3. Fiberglass planters These have a sophisticated style and are now becoming widely available at garden shops. They're typically rectangular, square, or cylindrical. The square shapes and matte finishes are great additions for a modern garden. Consider planting more sculptural plants, like a Boxwood Hedge, round Boxwoods, junipers or an interesting perennial grass, such as Japanese Blood Grass (Imperata 'Red Baron'). Once again, you'll want to have containers with drainage holes and go for the Styrofoam peanuts and filter fabric before adding soil.
Bryan also suggests installing an irrigation system to prevent wilting and drying out if most of your patio or balcony plants get a lot of sun.
For a Brooklyn perspective check out a great blog called Brooklyn Roof Garden.
Photo: Mike Tauber/ Bryant Landscape
The following two tabs change content below.

Founder/EIC
at
Charles & Hudson
Timothy's background includes stints at This Old House, ELLE DECOR, Metropolitan Home and Woman's Day. His work has been published on Wired Design, Bob Vila, DIY Network, The Family Handyman and Popular Mechanics and he has been featured on the Martha Stewart radio show and as a speaker at the ALT Design Summit, K/BIS and the National Hardware Show.

Latest posts by Timothy Dahl (see all)