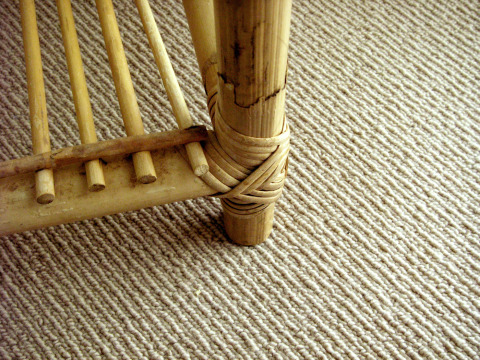 This week our editor Timothy Dahl is in Dalton, GA (the unofficial carpet capital of the world) visiting with Shaw Floors. We thought this was the perfect time to breakdown the process of getting carpet bids for installation. Here's our process.
It's nearly here. You've worked hard on a renovation – planning, sweating, hammering, painting and forking out umpteen amounts of cash at the home improvement store. But now things are coming together and the time has come.
The time for carpet installation that is.
Maybe it's just me. We've been working on our basement for like, a decade (okay, closer to 18 months, but sometimes it feels like 10 years). Now that nearly everything else is done there seems to be a 1000 watt bulb at the end of the tunnel calling my name. And that bulb has the word "berber" written on it.
With three contractor quotes in hand, we've come up with 3 handy ways to compare.

The goal is to see whether this is something to hire out for or something we'll handle on our own. The goal is also to have it done by June 30 (of this year!)
Price
Always the first comparison point, it's not truly the bottom line. If one company comes out way higher than the others, see if that salesman presented more value, a better product or a longer warranty.
Any time you're comparing contractor quotes, make sure it's apples to apples. And don't choose the lowest quote based on price alone.
Product
There is a certain carpet underpad that we want, based on past experiences and research. One contractor would not sell us that product without a waiver of the warranty, since it wasn't what he recommended.
Warning bells should sound in your head. It's fine that a contractor doesn't carry what you want. But if you know your stuff and two other companies are willing and ready to install it, tell that third guy to give his head a shake.
Service
We're on a schedule, so install dates are important. It may not be so important to you, but the timing of install is something you should take into consideration during the comparison.
If a contractor can do it too fast, it could mean they're hungry or not closing many sales. If it's going to take months, they might be a one-man show in over their heads. Consider everything you know about the company and make a judgment about their scheduling based on that.
Warranty is also an issue here. Do they have one? Is it thorough? How's their service record? Ask for recommendations and by all means, check them. It could protect you from a scam or an overly brilliant salesman.
In the grand scheme of things, having it done by a contractor will mean less headaches for us. And by this point in the renovation, we're sick and tired of headaches. So skip the DIY option.
The winning bid has a fair price, in line with the budget and the other two quotes. They're willing and able to provide the product we want and they can do it in a decent time (well before June 30th).
And that will make us sublimely happy. Isn't that what a successful renovation should do in the end? Quit laughing, I said "in the end."
photo courtesy of sxc/jellofishy
The following two tabs change content below.

Founder/EIC
at
Charles & Hudson
Timothy's background includes stints at This Old House, ELLE DECOR, Metropolitan Home and Woman's Day. His work has been published on Wired Design, Bob Vila, DIY Network, The Family Handyman and Popular Mechanics and he has been featured on the Martha Stewart radio show and as a speaker at the ALT Design Summit, K/BIS and the National Hardware Show.

Latest posts by Timothy Dahl (see all)