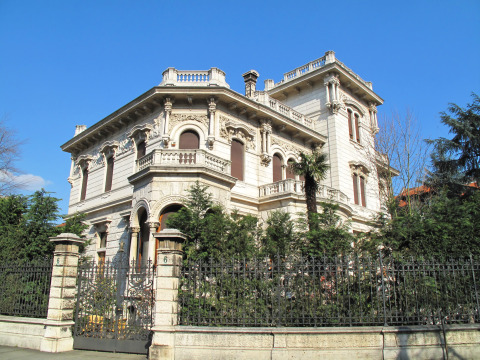 You know you want it. That top spot on the block, to be the object of your neighbor's envy, to have cars drive slowly by and admire your pad. OK, maybe that drive by thing would be a little freaky, but you can't deny it's nice to get admiring glances.
Follow these sure fire tips to make your home the cream of the suburban crop.
1) A Unified Look
This doesn't necessarily mean that your home's exterior needs a theme. It just means that you should have a well planned, coordinated look. Save the nick nacks and eclectic stuff for the rec room – your home should look put together on the outside.

2) Call Attention to the Attractive Focal Points
Do you have an interesting roof line or a dramatic front door? Make that the center piece of your design and the basis of your unified look. Look for things that set your house apart from the rest.
Some suburban builders tend to lack imagination and your house might be one in a line of many. Find a feature that's uniquely yours and show it off.
3) Keep Your Landscape Simple, But Don't Leave Out Personality
Choose plants that are low maintenance and have good form. But instead of the run of the mill junipers and tired perennials that everybody has, look for other, lesser used flowers and shrubs for your garden.
Striking exotics are fabulous. Keep them in pots for cold climates so you can bring them inside for the winter.
4) Throw Eggs At Your Neighbor's House When They're Sleeping
This is a sure fire way to make your house look great.
Just making sure your paying attention (sort of). When your neighbor's house looks good, it actually reflects well on yours.
But remember that you don't want them to look too attractive. When they get a fancy new front porch, make sure to one up them. When they paint their front door, invest in stained glass or colonial molding.
This is all about cut throat competition and being the most popular on the block. Spare no expense (or at least spare no creativity).
These simple tips will ensure your home takes home the crown. Gorgeous and grand, you can collect those admiring glances with pride.
photo courtesy of sxc/edmondo
The following two tabs change content below.

Founder/EIC
at
Charles & Hudson
Timothy's background includes stints at This Old House, ELLE DECOR, Metropolitan Home and Woman's Day. His work has been published on Wired Design, Bob Vila, DIY Network, The Family Handyman and Popular Mechanics and he has been featured on the Martha Stewart radio show and as a speaker at the ALT Design Summit, K/BIS and the National Hardware Show.

Latest posts by Timothy Dahl (see all)