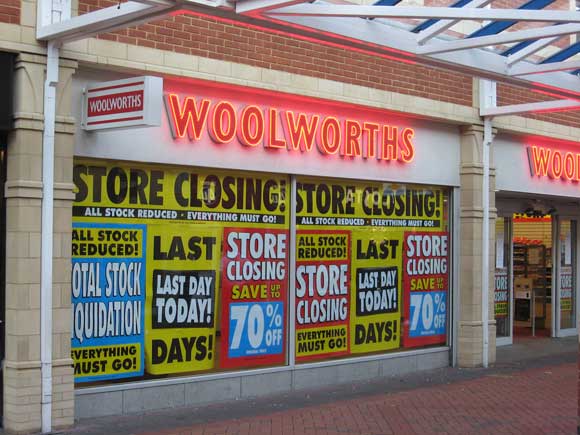 For book lovers, yesterday's news of Borders' bankruptcy filing was a sad day. Along with the filing, the bookseller announced it would close 30 percent of its stores, with those locations yet to be determined.
Store closings are never happy occasions, but there is a glimmer of silver lining in these situations: the liquidation sale. When stores close, they need to not only get rid of existing merchandise, but will also typically sell everything in the store–shelves, fixtures and other furniture.
You may not want to decorate your entire home in bookstore chic, but these going-out-of-business sales are great places to find pieces you may need to fill in your decor — or help with practical issues, such as storage.

Our biggest tip? Get there as early as you can. If you purchase a shelf or furnishing in the early stages of a store's liquidation, you likely won't be able to take it home that day, but the staff will put a sign on the item indicating that it's sold. If you wait until these items are actually empty, it's likely you'll turn up empty-handed.
Here's a list of what you can commonly find, especially at a store like Borders:
*Various shelves in an array of heights and sizes.
*Newsstand and magazine display racks.
*Armchairs and sidetables.
*Wire racks, such as those used to display calendars and related items.
*Small tabletop shelves.
Because the store is closing and needs to liquidate inventory as soon as possible, you'll likely score a heck of a deal on any items.
Have you purchased anything at a going-out-of-business sale? How did you incorporate the piece into your home?
photo: Watt Dabney
The following two tabs change content below.

Katy Schamberger is a Kansas City-based freelance writer, editor, blogger and author who weaves experience as a journalist, magazine editor and Chief Content Officer to create compelling, engaging copy that informs, entertains and inspires action. Oh, and she likes to take photos, too, especially of architecture, food and cocktails. Welcome!

Latest posts by Katy Schamberger (see all)