A Day with Shaw Floors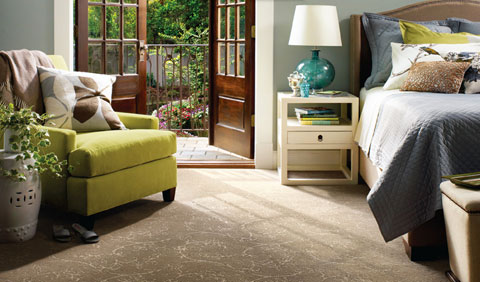 Tomorrow we're headed to Dalton, GA to visit the headquarters of Shaw Floors. They'll be introducing their line of Tigressa SoftStyle carpet to various media folks and designers (including Amy Devers) and we'll have a unique opportunity to:
+ Meet with their designers and learn about the inspiration behind the design concepts.
+ Participate in a hands-on quality and durability demonstration. (Think lab coats and goggles!)
+ Put my remodeling skills to the test in an installing demo.
We're looking forward to gaining a behind the scenes perspective on what goes into producing, designing and marketing an everyday product that we all use.
If you're not familiar with Shaw Floors they are the world's largest carpet manufacturer and floor covering provider. Carpet, tile, stone, hardwoods, laminates and area rugs, they've got it covered (no pun intended).
The focus of this trip will be on their new Tigressa SoftStyle line but I'm hoping to also learn more about their Green Label Plus certification, Anso Nylon stain resistant carpet and other green carpet initiatives.
As with any event or trade show we visit, we'll be posting live updates and pics from the event on our Twitter stream @Charles_Hudson and on our Facebook page so you've got a couple ways to follow along.