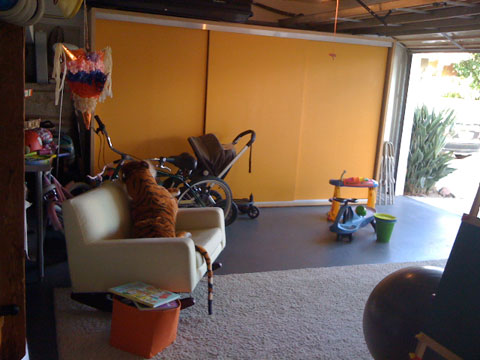 When someone asks where you spend most of your time, the garage doesn't typically rise to the top of the list, does it (well maybe it does – I am writing on a DIY blog)? Anyway, if your answer was no, it didn't for me either … at least until we got new custom storage units. It's not the units themselves that make me gravitate toward the garage. It's the color … a bright, beautiful yellow.
The fact of the matter is I'm not a color person. I prefer clean, white interior walls, even if they are impractical. For some reason, they make me feel calm and organized. But when we had to pick a surface color for a project in the garage, I thought, "What the hell? Let's do something different."
Well, Abet Laminati, thanks to you the garage is the new family room. On any given day, you may find me (and my entire family, and sometimes even guests) surfing the net, creating artwork, sipping a cocktail, or rearranging boxes in a place once reserved for cat litter and recycling, and all because it is pleasant to be in a bright, vibrant space.

You may be wondering who Abet is. It is not a person but a high-pressure laminate that comes in hundreds of hues, prints, and textures. The design possibilities are endless. I suggest you check it out for your next home improvement project and, you too, can experience the euphoria of color.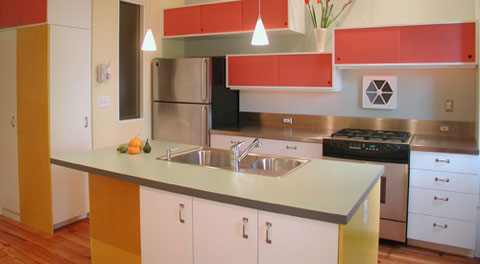 The following two tabs change content below.

Jennifer M. Volland is an independent writer and curator based in Long Beach, California. She conceived and co-curated the exhibition and publication Grand Hotel: Redesigning Modern Life for the Vancouver Art Gallery (2013). She is co-author of Edward A. Killingsworth: An Architect's Life (Hennessey + Ingalls, 2013) and Long Beach Architecture: The Unexpected Metropolis (Hennessey + Ingalls, 2004). Her writing has appeared in the Los Angeles Times, CITY, Environmental Graphics Magazine, Sunset, Arcade journal for architecture and design, and Western Interiors and Design, among other print and online publications.

Latest posts by Jennifer Volland (see all)