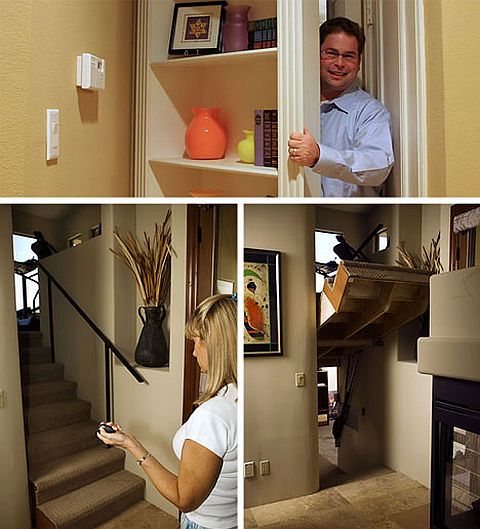 It's confession time, C&H readers. When I imagine the house of my dreams, there are several must-have features on that list: a claw-footed bathtub, a library with floor-to-ceiling shelves (and a purple velvet chaise, but that's another story!) AND, *drumroll please*: a secret room!
Turns out my fiance and I aren't the only ones who share in our love of top-secret spaces. This round-up on Web Urbanist showcases five modern secret rooms, whether they've been created by the homeowner or simply discovered during another renovation project, as often is the case with older homes.

Secret rooms typically serve two functions: pure entertainment and security. Think "Panic Room," or for a real-life example, a previous post on what could be the safest house in the world.
These types of hidden rooms are enough of a trend that entire companies are dedicated to their installation. Creative Home Engineering offers numerous products that can disguise a secret room, including movable staircases, bookcases, dressers and even made-to-match wall sections. According to the company, bookcases are the most commonly requested item.
If you have a small room or nook that you've designated as a possible secret space, Creative Home Engineering says that most of their products are designed for "ease of installation." They do, however, work with clients throughout the U.S. for projects that require skilled labor or a more complicated design.
Do you share my ambition to have a secret room in your home? And would you consider creating such a niche yourself, or would you call in the experts?
Photo courtesy of Creative Home Engineering via Web Urbanist
The following two tabs change content below.

Katy Schamberger is a Kansas City-based freelance writer, editor, blogger and author who weaves experience as a journalist, magazine editor and Chief Content Officer to create compelling, engaging copy that informs, entertains and inspires action. Oh, and she likes to take photos, too, especially of architecture, food and cocktails. Welcome!

Latest posts by Katy Schamberger (see all)