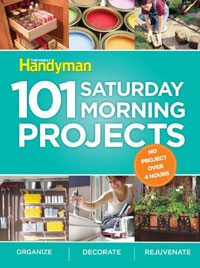 There's a few new books coming out this summer that I've had bookmarked on my Amazon list. Though I have my fair share of chick lit pre-ordered (no judgments) here are a few DIY reads that I'm excited to take to the beach.
101 Saturday Morning Projects – Over a hundred projects that take less than four hours? Sign me up. The talented people of The Family Handyman are behind this so you know it'll be good.
How To Plan, Contract and Build Your Own Home – The title says it all. I want to know how to do all three. This covers everything from types of homes to burgler proofing.
Converting Old Buildings into New Homes – I'm a sucker for transformations. I think I'll pay the most attention to the photos.

Have you read any good DIY books lately? Please let me know so we can add it to our list!