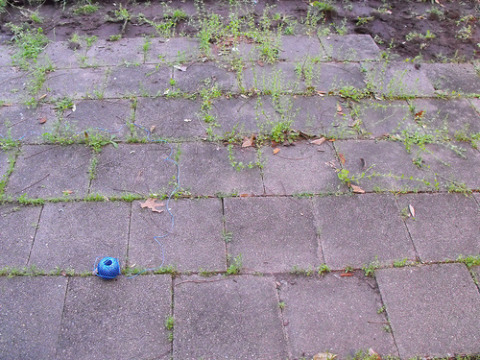 It is the age of calm, clutter-free spaces inside and outside our homes. Contemporary decor is full of simple, clean lines and a roomy feel. Think IKEA furniture and the tidy up job you do when your mom is coming over.
This trend totally translates into the backyard as well, where low furniture pieces with straight edges are replacing intricate designs and paisley patterns. Busy commotion is out and calm clarity is in.
What does this do for interlocking brick patios, since those particular stones are the princes of detailed and intricate outdoor design?
Is there still a place for this type of patio in the backyards of today?
We covered stamped concrete and its ability to echo the look of interlock pavers without any of the heaving and weed problems. Stamped concrete is undoubtedly in. So does that make interlocking brick out?

Not necessarily. Although the design of interlocking brick leans towards a busier look, the stones can be combined to create very peaceful, contemporary patterns. Using the same color of stone or sticking to a similar tone works well.
Don't be afraid to mix up colors if that works for your design. Maybe you're not the trendy type and maybe I'm totally off. A lot of gorgeous patios are built with two or three colors – one for the main body of the patio and another for the border and accents.
For a more open feeling, go with larger patterns that create the illusion of space instead of a chaotic distraction.
Interlocking brick patios make circles look easy. If that's the style you want in a patio, small stones are probably your best bet. Especially if you're laying circles within the patio or connecting them.
But whatever you do, stay away from the geometric patterns of the 80's and 90's. They are so yesterday – best left in the memory of the thirty-something crowd along with VCRs and walkmans.
Old world European charm is still a great look created with interlocking brick. I won't argue that it definitely works in some yards. The style is timeless and can be carried through the furniture, lighting and garden design. So if you like the feel of historical ambiance, go with interlock in something like the traditional cobblestone pattern.
Interlocking brick is a versatile patio finish and can be done to fit different styles. Outdated? Not yet. Unfashionable? That's all in the eye of the critic, but if it suits your yard and tastes then go for it. You're sure to feel calm and relaxed.
And isn't that what really matters?
photo courtesy of Nieve44/La Luz – flickr/Nieve44/La Luz
The following two tabs change content below.

Founder/EIC
at
Charles & Hudson
Timothy's background includes stints at This Old House, ELLE DECOR, Metropolitan Home and Woman's Day. His work has been published on Wired Design, Bob Vila, DIY Network, The Family Handyman and Popular Mechanics and he has been featured on the Martha Stewart radio show and as a speaker at the ALT Design Summit, K/BIS and the National Hardware Show.

Latest posts by Timothy Dahl (see all)