Falling trees are frightening — and worse, they pose a safety risk not only to your property, but to you and your family, too. Although you can't predict storm damage, you can examine the trees on your property and determine if they pose a higher safety risk than others.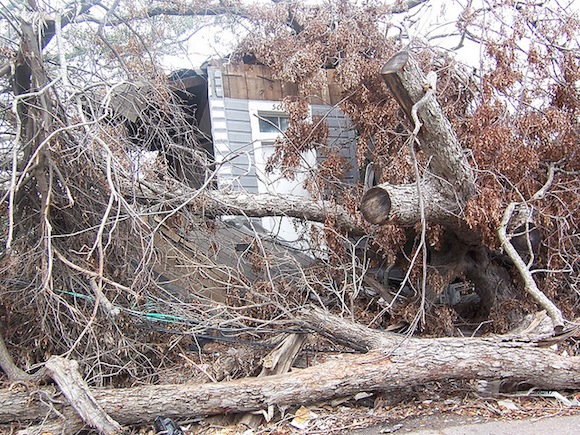 Jennifer Stell compiled a fantastic tree safety slideshow on iVillage.com that lists 13 warning signs of potentially unsafe trees. They include:
*Large, dead branches. Dead branches can fall even on a calm day, so if you notice that a tree has large dead areas, consider getting them removed.
*Mushrooms. If you notice mushrooms at the base of your tree, or especially higher up on the trunk or branches, these are signs of advanced decay–and it's probably time for the tree to come down.
*Twin trunks. Dual trunks are weakly attached to each other, posing a greater risk that high winds or ice will split the tree and cause it to fall.

*An ancient tree. Just because your tree is old doesn't necessarily mean that it's unsafe. If you have any questions about the condition of your tree, consult an arborist who will help identify any possible structural issues and estimate the remaining life of the tree. Once you have that information, you'll be able to create a course of action.
Do you have any problematic trees on your property? And if so, are you going to have them removed?
Photo: Flickr.com/granick
The following two tabs change content below.

Katy Schamberger is a Kansas City-based freelance writer, editor, blogger and author who weaves experience as a journalist, magazine editor and Chief Content Officer to create compelling, engaging copy that informs, entertains and inspires action. Oh, and she likes to take photos, too, especially of architecture, food and cocktails. Welcome!

Latest posts by Katy Schamberger (see all)