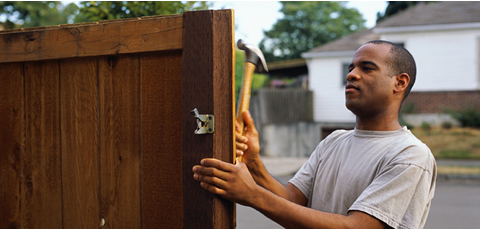 There are bound to be some home improvement projects that won't fit into your skill set. They may not even fit into your best friend or neighbor's skill set.
And that means you'll need to hire somebody else.
This is where things can get tricky. DIY enthusiasts know the value of a one-man show, from both a cost and a service perspective. But if we actually need to hire out for something, shouldn't we want to hire a big contractor with all of the necessary equipment and know-how?
What are the risks? And how can we choose right every time?
Pros and Cons
Right off the bat we'll assume that a big contractor is more expensive than the one-man show. It may not always be the case, but let's just assume it is. That's strike one for the big guy.
But often big contractors have multiple crews, allowing for a more flexible schedule–that can be a major pro in their favor.

The one-man show is more likely to give you personalized and attentive service, since it's their name on the pickup and their livelihood on the line. Good pro there.
But then again, a one-man show probably has more limited contacts and less products available. Con–especially for things like kitchen and bath renos.
What's the score?
Looks like we have one pro each and one con each (did I do that on purpose?) Is there a tiebreaker, something to make or break the choice? That's really up to the individual contractors you have quoting the job.
You may mesh perfectly with a one-man show and end up inviting that person over to watch the game. Or you may have a major personality conflict midway through the job and regret you ever chose him (or her!)
The big contractor may have everything necessary for an efficient, detailed completion of the project. Or they may get bogged down with work or run into staffing issues and leave you waiting for weeks.
There are so many variables in this business and no secret formulas.
Go With Your Gut
The best advice would be to get both the big contractor and the one-man show to quote on your job. Compare them, apples to apples as much as possible, and come to a decision based on what your gut says.
It's not a perfect science, but your instinct is right more often than not. And if all else fails, take another gander at doing it yourself!
Photo courtesy of flickr/world_waif
The following two tabs change content below.

Founder/EIC
at
Charles & Hudson
Timothy's background includes stints at This Old House, ELLE DECOR, Metropolitan Home and Woman's Day. His work has been published on Wired Design, Bob Vila, DIY Network, The Family Handyman and Popular Mechanics and he has been featured on the Martha Stewart radio show and as a speaker at the ALT Design Summit, K/BIS and the National Hardware Show.

Latest posts by Timothy Dahl (see all)