Whether you're considering selling your house or simply want to freshen up your home's exterior, you can't go wrong with installing a new garage door.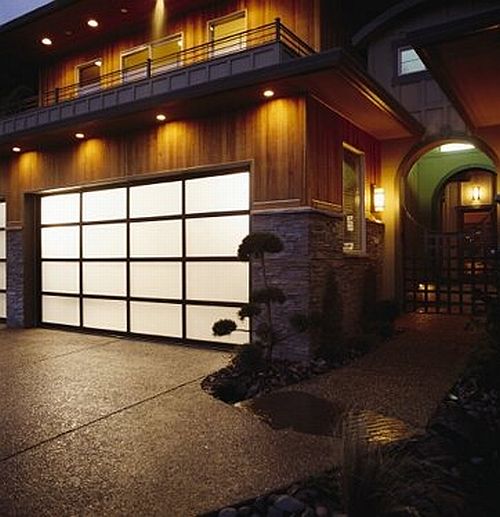 In fact, this project consistently ranks high on Remodeling magazine's Cost v. Value report. Data from the 2010-11 survey indicates that 83.9 percent of your replacement costs can be recouped from the boost in your home's resale value.
If you want to replace your garage door but remain budget-conscious, consider a mid-range door, classified by Remodeling magazine as "uninsulated, single-layer, embossed steel with two coats of baked-on paint, galvanized steel hinges and nylon rollers."
As with any project, however, splurge-worthy items are definitely available. You could opt for a mostly glass garage door to add eye-catching appeal (although we're not sure about the security aspects of this design.)

For a more traditional aesthetic, try a wood, carriage-like door. Glass and wrought-iron trim are available for a truly luxurious product.
And if you prefer something that's more sustainable and eco-friendly, consider a door made of wood composite. You can easily change the color with a coat of primer and paint, making these a versatile option if you'd like the freedom to periodically change the color of your door.
Are you planning on replacing your garage door soon? If so, what type and brand are you considering?
Photo via Clopay
The following two tabs change content below.

Katy Schamberger is a Kansas City-based freelance writer, editor, blogger and author who weaves experience as a journalist, magazine editor and Chief Content Officer to create compelling, engaging copy that informs, entertains and inspires action. Oh, and she likes to take photos, too, especially of architecture, food and cocktails. Welcome!

Latest posts by Katy Schamberger (see all)