There's nothing we love more than a quick DIY project that serves a practical purpose. Summer is a prime time to gather fresh fruits and vegetables from your garden or area farmers markets, but the downside is that the produce can often attract fruit flies while being stored in your kitchen.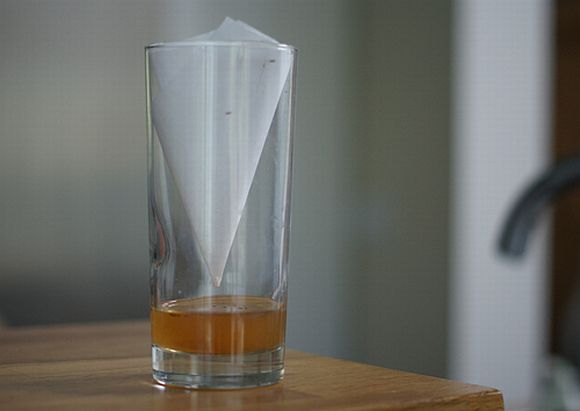 The solution? A DIY fruit fly trap, of course! Mandi at Organizing Your Way has an easy project that you'll finish in a few minutes–and aren't those the best kind of projects? You'll likely have supplies around the house, too. Here's what you'll need:
Supplies
Tall glass or jar
Piece of paper
Tape
Scissors
Apple cider vinegar
Fruit juice

Fill the jar or glass with a half-inch of apple cider vinegar and top with a splash of fruit juice. Roll the piece of paper into a cone so that it fits tightly at the top of the glass (but make sure the bottom of the cone doesn't touch the liquid.) Tape closed. Place the cone into the jar or glass. Then sit back and watch the trapping begin!
Mandi recommends keeping the vinegar/juice mixture fresh for maximum effectiveness, so you may want to change it every three days.
If you try making the trap, let us know how it works! It's definitely at the top of our to-do list, too.
Photo via Organizing Your Way
The following two tabs change content below.

Katy Schamberger is a Kansas City-based freelance writer, editor, blogger and author who weaves experience as a journalist, magazine editor and Chief Content Officer to create compelling, engaging copy that informs, entertains and inspires action. Oh, and she likes to take photos, too, especially of architecture, food and cocktails. Welcome!

Latest posts by Katy Schamberger (see all)