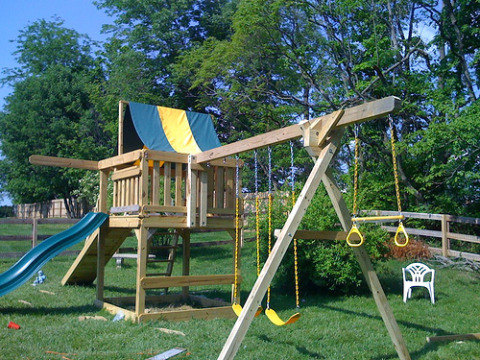 There's just something about it – your hair whipping with the wind and your feet reaching for the clouds. Almost every kid loves to rise a swing, wild and free, and there is no better place for them to do that then their own backyard.
Sure, you can pick up a squeaky metal swing set from the department store. But how much better would it be to build your own customized backyard play center?
Include a slide (straight and fast or a windy tube), unique two person swings and even a trapeze if you want. Get out a few standard tools and take a weekend to create an activity center that will leave your kids the envy of the neighborhood.

Home improvement stores will start you off with a kit. Building instructions and material lists help get the swing swinging, so to speak. Most include a covered area or clubhouse for play, sort of like a freestanding tree house. It helps to give your kids a convenient spot out of the sun and stirs the imagination to untold backyard adventures.
Specialized websites also sell various plans complete with material lists and step by step instructions.
You should be able to get the parts you want or add them on to standard sets with extensions. Make sure the products are rated for outdoor use, have excellent warranties and follow all of the safety standards. If hardware isn't included, use stainless steel and vinyl coated chains whenever possible.
Some creative add-ins are rock climbing walls for the adventurer, telescopes, flags and steering wheels for wanna be pirates and fully formed plastic horse swings for every cowgirl and cowboy.
Many parents and grandparents opt for cedar wood on a kid's swing set. Cedar has a naturally present rot resistance and doesn't contain any potentially harmful chemicals.
If you do go for pressure treated wood, make sure it is ACQ treated and don't use any aluminum hardware or components.
All wood will crack and splinter in the sun. Staining will slow that process down, but a quick scan with a hand sander in the spring can also get rid of any snags, sharp points or rough surfaces.
Some plans call for concreted wood posts, while other sets simply sit on the lawn. For the best portability and versatility, opt out of digging holes and setting concrete. If you must sink the posts down, just back fill with top soil and you're covered.
Give your kids the best summer ever with a customized backyard play center hand crafted by mom and dad (and maybe a few generous friends). They're sure to be grateful and spend a lot more time outside.
photo courtesy of flickr/mikehickerson, who did a stellar job on this set
The following two tabs change content below.

Founder/EIC
at
Charles & Hudson
Timothy's background includes stints at This Old House, ELLE DECOR, Metropolitan Home and Woman's Day. His work has been published on Wired Design, Bob Vila, DIY Network, The Family Handyman and Popular Mechanics and he has been featured on the Martha Stewart radio show and as a speaker at the ALT Design Summit, K/BIS and the National Hardware Show.

Latest posts by Timothy Dahl (see all)