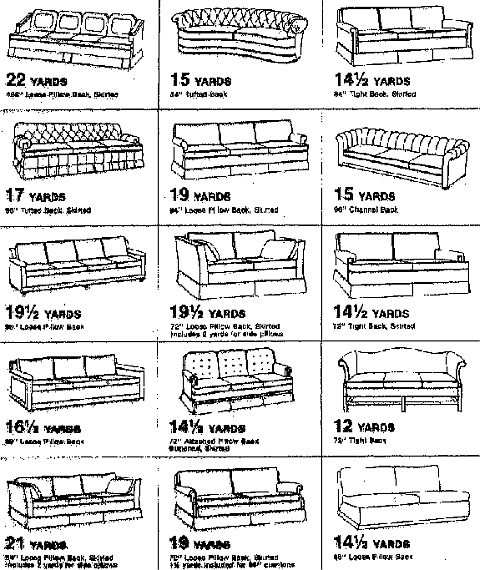 Whether you want to spruce up a chair or breathe new life into a couch, DIY upholstering is a great weekend project that can easily add impact to a room without draining your wallet on a new piece of furniture.
Jenny from the Little Green Notebook published several upholstery charts, which illustrate common pieces of furniture and the amount of fabric you'll need to cover each piece.

She shares a helpful hint, too–remember that for patterned fabric, you'll need much more yardage depending on the size of the pattern's repeat. Don't hesitate to consult with your furniture manufacturer or a local upholsterer to confirm measurements and ask other questions.
And if this post has successfully inspired you to reupholster furniture in your own home, check out this step-by-step tutorial from the DIY Network. You'll start small by reupholstering a dining room chair cushion, but it's a great way to familiarize yourself with the technique and prepare for bigger projects, like an entire couch. When you're finished, don't forget to tell us your favorite tips and tricks–and send photos!
Photo courtesy of Little Green Notebook
The following two tabs change content below.

Katy Schamberger is a Kansas City-based freelance writer, editor, blogger and author who weaves experience as a journalist, magazine editor and Chief Content Officer to create compelling, engaging copy that informs, entertains and inspires action. Oh, and she likes to take photos, too, especially of architecture, food and cocktails. Welcome!

Latest posts by Katy Schamberger (see all)