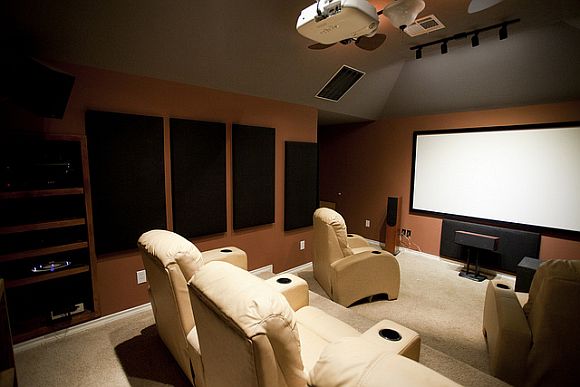 They've been nearly inescapable the last couple of weeks, unless you're (lucky enough to be) living under a rock. Commercials touting the latest holiday retail deals are filling airwaves and print media with declarations of stunning bargains, one of the primary reasons why now is the best time of the year to make HDTV and home entertainment purchases.
Just the other day, we overheard someone comment about the massive price drop in plasma TV's in the early 2000s, when they first appeared on the market, to now. Of course, that always seems to be the trend with electronics (and other items, too) — once the novelty of the technology wears off (and begins to be duplicated), the price lowers and supply becomes more widespread.
Creating a home theater isn't as intimidating as it sounds — and no, you don't necessarily need a separate screening room. A large-screen TV and surround sound can go a long way in enhancing your movie-watching experience.

The discounts are likely to continue through the end of the year, so if a home theater has been on your to-do list, consider shopping around now to score some unbeatable bargains. And just think – your home theater will be complete in time to host the world's best Super Bowl party!
And just a quick reminder — if you do cash in on any big-ticket electronics this holiday season, remember to carefully discard the packaging so as not to alert potential thieves about what's inside your home.
Is a home theater a must in your dwelling? Or do your TV- and movie-watching habits come courtesy of a laptop and Netflix or Hulu? We'd love to hear from you!
Photo: gsloan
The following two tabs change content below.

Katy Schamberger is a Kansas City-based freelance writer, editor, blogger and author who weaves experience as a journalist, magazine editor and Chief Content Officer to create compelling, engaging copy that informs, entertains and inspires action. Oh, and she likes to take photos, too, especially of architecture, food and cocktails. Welcome!

Latest posts by Katy Schamberger (see all)