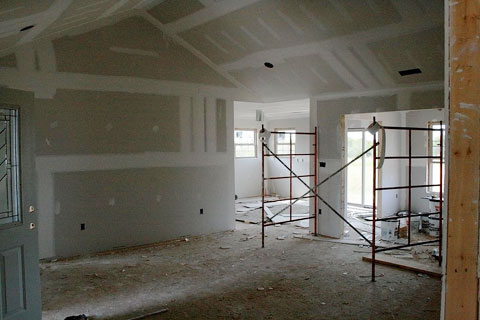 U.S. regulators have now stated that homeowners should remove potentially defective Chinese drywall from their homes to prevent health and safety problems linked to noxious emissions.
According to the Wall Street Journal:
The Consumer Product Safety Commission and Department of Housing and Urban Development disclosed new information they said indicated that certain Chinese drywall emitted hydrogen sulfide at rates 100 times that of non-Chinese samples, far more than earlier thought.
The announcement could set the stage for Congress to compensate homeowners who face the expense of gutting their homes and replacing the drywall, officials said. One lawmaker said the U.S. should seek compensation from the Chinese government.
Chinese-made drywall, also known as gypsum or wallboard, has been under federal investigation because of complaints that the drywall emits sulfide fumes. Homeowners have complained of rotten-egg smells, corrosion of appliances and health problems such as bloody noses, headaches and respiratory issues.

A spokesman for the CPSC said there hadn't been any signs of long-term health impact from the drywall. He said there was evidence that when homeowners leave homes that contain the suspect drywall, their symptoms go away.
The agencies are still conducting a long-term health assessment on the matter.
The Consumer Product Safety Commission has received more than 3,000 homeowner complaints from 37 states, the District of Columbia and Puerto Rico alleging home damage from chemicals emitted from Chinese drywall.
[via Wall Street Journal]
photo: bonedaddyp7
The following two tabs change content below.

Founder/EIC
at
Charles & Hudson
Timothy's background includes stints at This Old House, ELLE DECOR, Metropolitan Home and Woman's Day. His work has been published on Wired Design, Bob Vila, DIY Network, The Family Handyman and Popular Mechanics and he has been featured on the Martha Stewart radio show and as a speaker at the ALT Design Summit, K/BIS and the National Hardware Show.

Latest posts by Timothy Dahl (see all)