Growing up, I was quite the tomboy. And looking back at my preferred toys, it's no surprise that I now write about home improvement and DIY. Lincoln Logs, Tinker Toys, blocks and a pint-sized tool kit topped my list of beloved playthings.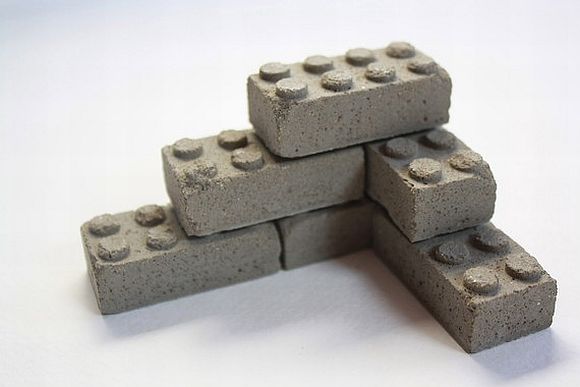 For creators young and old, there's nothing quite like Legos. They're colorful, durable and the possibilities for Lego creations are limitless. They might not have a lot of practical applications for use in your next DIY project, but when I saw these authentic concrete versions featured on Bit Rebels, I knew I had to include them on the blog.
The standard 2×4 building blocks are handcast by Etsy user Studio1015. They're available in sets of 6 for $8.75. Aside from the impressive craftsmanship, the fact that they're handcast means each block comes with its own imperfections and color variations, making them true works of art.

Pick up a few sets and you could create a pint-sized version of your dream house, the perfect inspiration for your future DIY projects. Or create a wow-worthy sculpture that's worthy of placement on your mantle, coffee table or other prime spot.
What do you think of the concrete Legos? Are they on your to-buy list?
Photo via Etsy
The following two tabs change content below.

Katy Schamberger is a Kansas City-based freelance writer, editor, blogger and author who weaves experience as a journalist, magazine editor and Chief Content Officer to create compelling, engaging copy that informs, entertains and inspires action. Oh, and she likes to take photos, too, especially of architecture, food and cocktails. Welcome!

Latest posts by Katy Schamberger (see all)