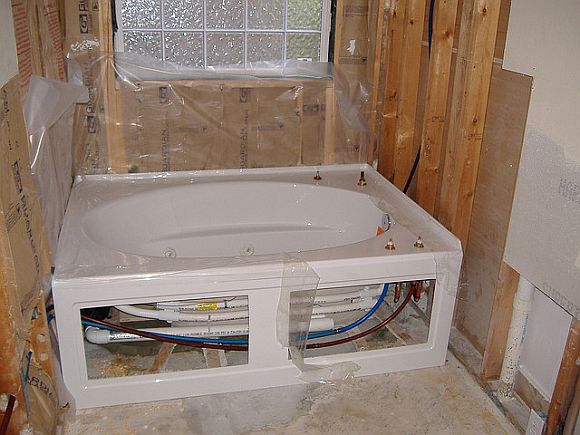 If you're planning a bathroom renovation, start your project by creating a plumbing diagram. This valuable map will ensure your fixtures and plumbing will be in the right place, especially in relation to your home's existing water supply.
You'll need a measuring tape, paper, pencils, a notepad and a chalk-line.
+ Start in the bathroom and measure the space. Record the measurements in a notepad and, using a chalk line, mark where your new bathroom fixtures and faucets will be.

+ As you're creating your plumbing map, check to see if you're connected to your city's water supply or if your home uses a septic system.
+ Locate your home's primary drainage stack, which is the location to which your main-level sink, toilet and shower drain to. Once you've found the stack, measure and write down the distance between the stack and the closest point of the street's drain system. As the demolition begins and new plumbing is installed, this is where the connection will be made.
+ If you decide to contact a licensed plumber to complete the job, have her or him check over your diagram before beginning. This will ensure that you have your fixtures and faucets properly placed, and also that you're meeting any applicable city codes.
Photo by nfspw
The following two tabs change content below.

Katy Schamberger is a Kansas City-based freelance writer, editor, blogger and author who weaves experience as a journalist, magazine editor and Chief Content Officer to create compelling, engaging copy that informs, entertains and inspires action. Oh, and she likes to take photos, too, especially of architecture, food and cocktails. Welcome!

Latest posts by Katy Schamberger (see all)