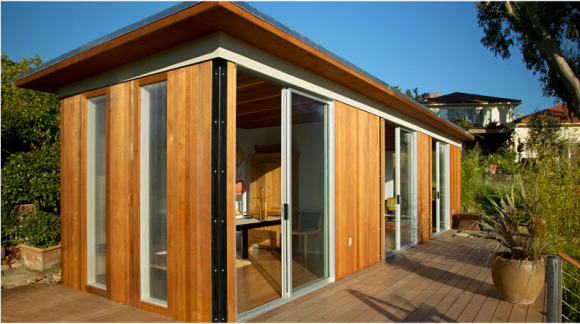 With the housing market and economy as they are, it's hard for most people to look for new residences when they feel they've run out of space where they currently live. Sometimes you can renovate and quadruple-task every room in your home only to discover that what you really need is just more square footage.
For us, with two babies born practically on top of each other, we quickly had to reconfigure the whole layout of our home in order to best utilize our space. While we're okay for the time being, we'll need to figure out carving out space for ourselves soon enough — the kid creep is already overtaking most of our sacred spaces.
When an addition to your existing structure isn't a possibility, there may be a completely green solution out there for you — a free standing, green, Modern Cabana.

The company out of San Francisco is offering a range of cabanas from a dog house (and a kids' play house!) to a 12′x24′ upgraded model compete with kitchen and bathroom. Using FSC certified framing, lumber, and siding, recycled denim insulation, and bamboo flooring, the environmental impact of these structures is incredibly minimal.
Their website also claims that the cabanas are fairly easy to assemble in about a weekend with a couple of friends. Electrical and plumbing can be added either by them at manufacturing or by a contractor during construction. The cabanas also come unfinished on both the interior and exterior so you can mold them around your intended ideal decor scheme. There are also considerations for weather, security, HVAC, and custom designs in their FAQ.
We're seriously lusting after one of the smaller models, but since they cost about a quarter of our home's value (we do live in the #9 most affordable city for homebuying, according to Forbes) and our urban back yard is about the size of a postage stamp, it's probably a dream we have to save for the future.
Would you ever consider building a free-standing addition to your home? What would you utilize the extra space for? As always, let us know in the comments below!
Photos courtesy of Modern Cabana