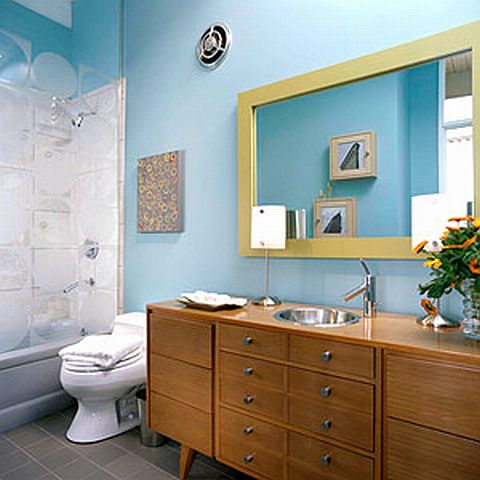 I came across a great DIY bathroom project from the brilliant minds at Better Homes and Gardens. Instead of purchasing a new vanity, consider converting an existing dresser into the perfect sink space, complete with plenty of drawers!
The first–and most critical–step of the project is to find a dresser that fits with your bathroom's decor and size. You may already have something on hand, or this could be a great excuse to do a little salvage or flea market shopping.

Once you've found a piece of furniture to fit the bill–as well as a sink and faucet, of course–the project easily comes together.
BHG advises the removal of any drawers or drawer supports that will interfere with your sink and its plumbing.
Use a positioning template (fancy DIY speak for a paper cutout the size of the sink) to draw where your sink will go on the top of the dresser. Also note where the faucet will be installed if the faucet will be mounted outside of the sink.
Use a jigsaw to cut out the sink, faucet water supply openings. Install the sink and faucet, and if needed, modify the drawers around the sink to fit in the new space. You can cut off the back of the drawer with the jigsaw until you've reached your desired length, and re-insert the drawers.
Hook up the plumbing and your sink is set!
This project is a great example of how to use a piece of reclaimed furniture to bring a new aesthetic into a space. What's your personal DIY style? Do you prefer to find a new piece of furniture that fits your needs, or do you enjoy modifying an existing piece to create an entirely new function?
Photo courtesy of BHG.com
The following two tabs change content below.

Katy Schamberger is a Kansas City-based freelance writer, editor, blogger and author who weaves experience as a journalist, magazine editor and Chief Content Officer to create compelling, engaging copy that informs, entertains and inspires action. Oh, and she likes to take photos, too, especially of architecture, food and cocktails. Welcome!

Latest posts by Katy Schamberger (see all)