I don't know how the weather is where you live, but here in Kansas City, we're in for a chilly and rainy weekend – the perfect time to knock out a few DIY projects!
The newest one I've added to my list? These awesome invisible floating shelves! They'd look great next to the bed, or even in a living room or office area. I'd be interested in creating several so that I can make a grouping of shelves and transform my books into works of art.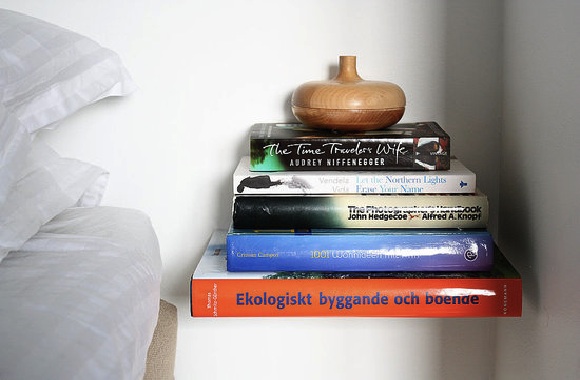 For a complete tutorial, check out the link provided by our friends at CasaSugar. And before you get started, consider these pointers:
You'll need "a sacrificial book" to create the base of the shelf – hardback books are ideal. You'll also want to make sure your shelf has adequate support, so before you hang it, find the stud in your wall. Use a studfinder or a tried-and-true technique – knocking!

And once the shelf is on the wall, the secret to keeping it invisible is to stack books high enough so that the bracket is covered.
What do you think of the invisible shelves? Will you be adding these to your DIY project list? I'll keep you posted on my progress if you'll keep me posted on yours!
Photo courtesy of CasaSugar
The following two tabs change content below.

Katy Schamberger is a Kansas City-based freelance writer, editor, blogger and author who weaves experience as a journalist, magazine editor and Chief Content Officer to create compelling, engaging copy that informs, entertains and inspires action. Oh, and she likes to take photos, too, especially of architecture, food and cocktails. Welcome!

Latest posts by Katy Schamberger (see all)