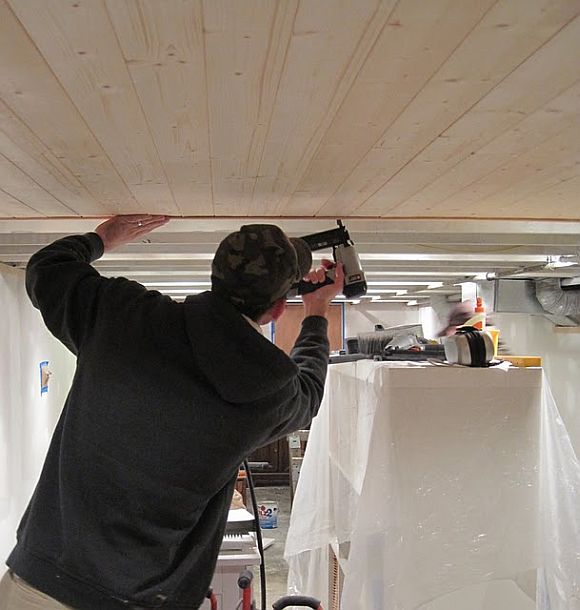 We follow several DIY bloggers who are all in varying stages of basement renovations. Whether your lower level needs an update or a complete finish, putting some DIY muscle into your basement can do wonders for your home's square footage.
Traditionally, basements have a bad rap–dark, damp and kinda scary. But that's changing, thanks to daylight and walk-out elevations that allow for natural light, or some cleverly applied lighting tricks that can make the room seem brighter than it appears.
One project you may encounter while refinishing a basement is the ceiling. They're often left open, which is fine if you crave that industrial, loft-like look. For something more streamlined, however, you'll want to install another ceiling, and that's where we turn it over to our friends at The Stucco Bungalow.

Handy Husband, as he's referred to on the site, self-installed a gorgeous pine plank ceiling. This is a fantastic option for several reasons.
*Pine is a naturally light-colored wood and will add a bright, airy feeling to your space–this is especially helpful if you're dealing with low ceilings, as are common in many basements.
*It's an unexpected choice that adds a design element to the room. And because pine is so light, it's versatile enough to work with a variety of colors, depending on how you're planning to decorate the space.
*Speaking of versatility, pine gives you options. You can leave the planks unfinished, or you can paint them. If the pine planks are smooth and sanded, there's no reason to cover them up, unless that's your preference.
What do you think of the pine plank ceiling?
Photo courtesy of The Stucco Bungalow
The following two tabs change content below.

Katy Schamberger is a Kansas City-based freelance writer, editor, blogger and author who weaves experience as a journalist, magazine editor and Chief Content Officer to create compelling, engaging copy that informs, entertains and inspires action. Oh, and she likes to take photos, too, especially of architecture, food and cocktails. Welcome!

Latest posts by Katy Schamberger (see all)