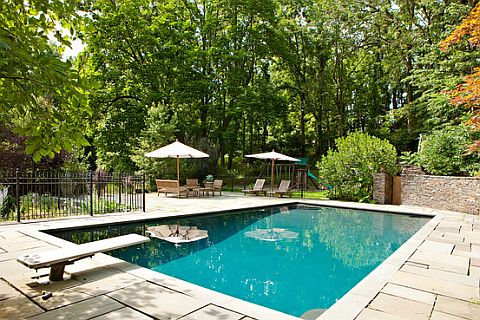 In continuing a discussion about things I'd like to have in my dream home (including a secret room), an in-ground swimming pool tops the list. I've loved to swim and be near the water since I was a kid, and I've always thought that having a pool in my backyard would be the ultimate indulgence.
Thanks to the Wall Street Journal's thorough breakdown, however, I have a more realistic idea of pool costs. Reporter Brett Arends writes that most financial experts recommend setting aside a whopping $25,000 to $50,000 for an in-ground pool. And that's just the initial cost.

The price of ongoing maintenance is a crucial detail often overlooked by new pool owners. You may need to install a fence as a safety precaution, an addition that's being required by more and more cities.
You'll also need to buy supplies for ongoing pool maintenance, which, even if purchased at a discount outlet, can still add up into the several hundreds of dollars, if not more.
Another important factor? Your time. You'll need to budget several hours for cleaning and upkeep, a task that can become more time-consuming if you live in a heavily treed area. And pools, like most other household appliances or equipment, are subject to repairs for broken pumps, filters or other pieces that are crucial to the pool's cleanliness and functionality.
That being said, a swimming pool can still be a great option for many homes, especially if you live in a climate with consistent, warm summers in which you'll get more use out of your investment. Like any big purchase, however, buying and installing a pool certainly deserves a fair amount of planning, budgeting and forethought before you dive in (pun intended!)
What are your thoughts on swimming pools? Necessary luxury or wasteful expense? Let us know!
Photo by Houlihan Lawrence/Wall Street Journal
The following two tabs change content below.

Katy Schamberger is a Kansas City-based freelance writer, editor, blogger and author who weaves experience as a journalist, magazine editor and Chief Content Officer to create compelling, engaging copy that informs, entertains and inspires action. Oh, and she likes to take photos, too, especially of architecture, food and cocktails. Welcome!

Latest posts by Katy Schamberger (see all)