Dwelling:3918 Chronicles A Complete Renovation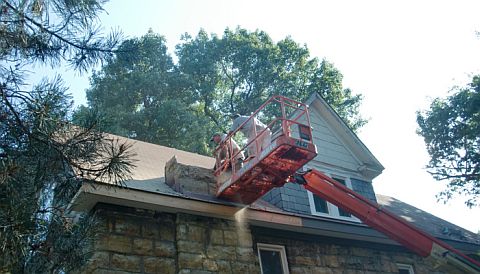 Thanks to a tip from one of my favorite local blogs, I found myself with a new must-read site. Dwelling:3918 tells the story of one Kansas City family's quest to completely renovate a 122-year-old stone home in their scenic Hyde Park neighborhood.
As is the case with many older homes, several challenges have already beset the homeowners, including a leaning chimney and a rougher-than-average roof as a result of tree neglect.

The posts are concise yet informative and the site is a virtual wealth of photos, which provide not only a visual chronicle of the renovation journey but also inspiration for those who may find themselves in a similar type of house.
Now that I've found such a fantastic resource in my neck of the woods, you can bet I'll be driving by on a frequent basis! There are few things I love more than living vicariously through fearless homeowners on a DIY quest to improve their surroundings, and Dwelling:3918 is no exception.
And on a more general note, what are your thoughts on blogging a complete home improvement (or the occasional project?) Is it something you've already done, or something you'd consider while juggling the demands of home renovation?
Photo courtesy of Dwelling:3918