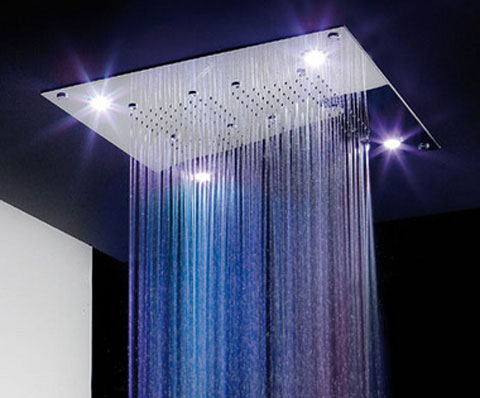 There's a battle brewing over the use of luxurious high-flow shower heads. Some of these high-end showerheads cost upwards of $5,000 or more and emit as much as 12 gallons of water a minute, essentially and bringing a down pour into your bathroom.
According to the Wall Street Journal:
Regulators are going after some of the luxury shower fixtures that took off in the housing boom. In May, the DOE stunned the plumbing-products industry when it said it would adopt a strict definition of the term "showerhead" in enforcing standards that have been on the books–but largely unenforced–for nearly 20 years.

Industry response has been fast and furious. "It was not the legislative intent of Congress to authorize DOE to regulate the bathing habits of Americans," wrote Frederick Desborough, vice president of California Faucets, a Huntington Beach, Calif., manufacturer, in a letter to the DOE in June.
The showdown is a challenge to President Barack Obama and his energy secretary, Steven Chu, as they try to cajole–or compel–Americans to use water and energy more efficiently. Mr. Chu, a self-described "zealot" for energy efficiency, says he crawls around in his attic in his spare time installing extra insulation.
The battle lines have been drawn and the bath industry isn't going down without a fight. The luxury segment has weekened but there is still a demand for these shower heads.
Whose side are you on???
[via Wall Street Journal]
photo: homedesignss
The following two tabs change content below.

Founder/EIC
at
Charles & Hudson
Timothy's background includes stints at This Old House, ELLE DECOR, Metropolitan Home and Woman's Day. His work has been published on Wired Design, Bob Vila, DIY Network, The Family Handyman and Popular Mechanics and he has been featured on the Martha Stewart radio show and as a speaker at the ALT Design Summit, K/BIS and the National Hardware Show.

Latest posts by Timothy Dahl (see all)