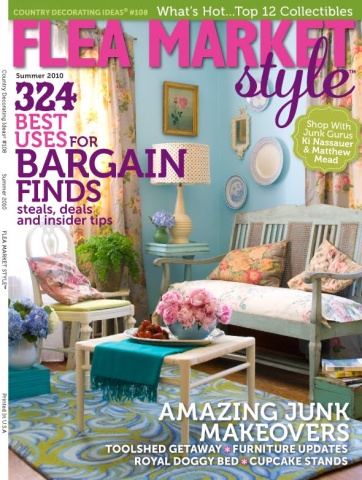 Today, the shelter-centered parts of my feedreader exploded with excitement and joy — there was a new shelter magazine released! In the wake of such greats like Domino and Metropolitan Home being discontinued, it seems like a welcome reprieve to welcome a new contender to the ring.
So, without further ado, I introduce you to Flea Market Style, the magazine.
Created by Matthew Mead, a regular contributor to Better Homes & Gardens and Victoria magazines, and Ki Nassauer, the former editor and columnist of Country Home magazine, Flea Market Style is supposedly for both the scavenger/repurposer and the DIY crafter.

At first mention, I was nervous that the magazine would be kitschy and not my taste (think, very country la-de-da cutesy), but after perusing their blog as well as the reviews of the magazine by bloggers I admire, Mrs. Limestone of A Brooklyn Limestone and Kim of Desire To Inspire, it appears that is not the case at all. I already see pictures of things I lust after, like a reupholstered Victorian-ear love seat (swoon), and creative layouts of photographs which always make me smile.
It's hard on a rainy spring day to not want a new shelter mag to hold, especially when so many have disappeared over the last couple of years. There may be a trip to my local bookstore in the near future, to be completely honest.
What do you think — will you be picking up a copy of this new venture, or do you think you'll pass? Let me know in the comments, especially if you've managed to get your hands on a copy!
photo via Flea Market Style blog
The following two tabs change content below.

I'm Tabatha. The bare-bones basics about me is that I'm in my late twenties, and I'm a college-educated stay-at-home mom. I'm married to my college sweetheart with whom I have two kids, five cats, and a Chihuahua in our 115 year old house in Dayton, Ohio.

Latest posts by Tabatha Muntzinger (see all)