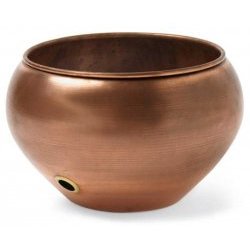 While flipping through the pages of Real Simple magazine, I noticed an ingenious solution for wrangling unruly garden hoses, thereby eliminating a major source of outdoor clutter.
Instead of a hose reel or cart, consider a hose pot, which discreetly hides a coiled garden hose in a decorative container. Not only is the garden hose out-of-sight and easy to access, the hose pot also adds an aesthetic flair to a patio, deck or outdoor space. Hose pots are available at most hardware stores and gardening centers, and are typically priced from $40.
Image courtesy of Stacks and Stacks
The following two tabs change content below.

Katy Schamberger is a Kansas City-based freelance writer, editor, blogger and author who weaves experience as a journalist, magazine editor and Chief Content Officer to create compelling, engaging copy that informs, entertains and inspires action. Oh, and she likes to take photos, too, especially of architecture, food and cocktails. Welcome!

Latest posts by Katy Schamberger (see all)