Growing Herb Container Gardens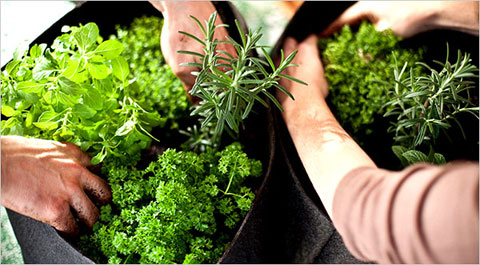 While reading the New York Times' garden section I was psyched to see an article on container gardens for spring. I'm not lucky enough to have a yard but I do have some beautiful window sills that are just begging for basil, oregano and thyme.
One of the containers mentioned in the article was the herb grow bag. I've heard rave reviews about these before. The concept came from British gardeners who would make the most of very limited garden space by growing vegetables, greens and herbs in plastic bags placed on steps, patios and landings.

Gardener's Supply Company (a fantastic resources for everything gardens) have made their own grow bags using double-layer polypropylene which breathes much better than regular plastic. There's a grow bag for any plant — shallow for salads, deep for tomatoes, peppers and potatoes. Buy them here and start planting.
Photo: T.C. Worley for New York Times