With Halloween barely behind us, it's hard to imagine the holiday season being around the corner. However, as retailers advertise Black Friday sales and grocery stores closing out their turkey order lists, you'd better believe 'tis the season indeed.
Although we typically don't like to decorate for the holidays until after Thanksgiving, now is the time to get your game plan together for both your external and internal trimmings, and we're here to help you find the easiest and least expensive ways (cheap) to show your festive side — without cutting into your holiday gift budget. Time for some holiday decorating on the cheap!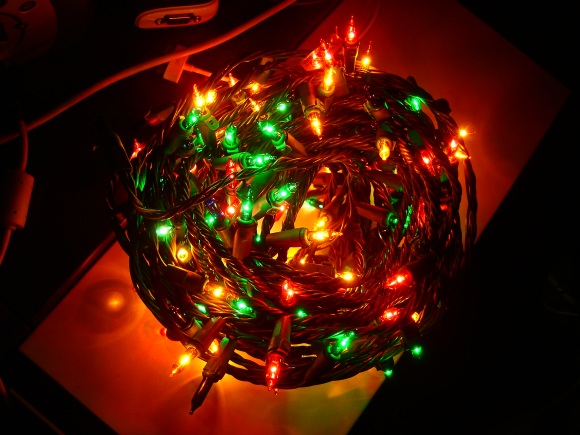 Shop Now For Next Year's Fall Festivities
You can find both Halloween and Thanksgiving decor and accessories on deep clearance right now — but the sales and stock won't last much longer. Is there a better way to prepare yourself for next year's haunts and harvests than to snatch up some sweet deals today? We don't think so. The same will be true for Christmas and Hanukkah decor come mid-December, so always think ahead to next year and save yourself some serious dough.
Use A Little DIY To Change With The Season
Have any gourds still hanging out from your autumn festivities? Try spray-painting them white or metallic colors to transform them into winter-appropriate centerpieces. Use packaging paper and twine to make snowflakes, garlands, and even wreaths to strew about your abode. If you have any scrap pieces of wood laying about, you can create your own lawn decor by fashioning festive signage or figurines that can weather the impending winter.
Shop Your Own Home
You'd be amazed what you can find laying around your own house. You can use ribbon and wrapping paper to transform nearly any surface. Or try filling some large glass vases with ornaments or winter foliage to put on display. Never underestimate the festive appeal of candles, whether they're bunched together or spread out throughout a room. And with a simple ribbon or hat, you can transform any old tchotchke into a seasonally-pleasing item.
Use What Your Mama (Nature) Gave You
Gather pine cones, winter berries, and down pine boughs while walking around your neighborhood or local park. Use them in arrangements both in and outside of your house to create a simple, streamlined holiday look. Tie large ribbons into bows around your trees and shrubberies in your yard (and inside plants, too) for a super-simple, yet classic look.
Think Outside Of The Box
Resist the urge to purchase holiday decor while at the grocery or big box store. Discount retailers and even drug stores often carry simple items such as indoor/outdoor lights and ornaments — and they're frequently on sale. Also keep your eyes open in dollar stores for streamers, garland, ribbon, and other multi-purpose trimmings.
Branch Out From The Traditional
A great way to make your decor dollars stretch is to think beyond the traditional color schemes for the holidays. Embracing an all-white, metallic, or jewel-tone scheme can make your decorations last from September until January with little to no tweaking.
What are some ways you make your decor stretch through the changing holidays? As always, we'd love to hear your tips and ideas in the comments!
Photo 1: prettyinprint
Photo 2: trekkyandy
The following two tabs change content below.

I'm Tabatha. The bare-bones basics about me is that I'm in my late twenties, and I'm a college-educated stay-at-home mom. I'm married to my college sweetheart with whom I have two kids, five cats, and a Chihuahua in our 115 year old house in Dayton, Ohio.

Latest posts by Tabatha Muntzinger (see all)