Grilling, dining al fresco, relaxing in a hammock with a good book–it's no wonder that spending time outdoors is one of the top activities during the summer. And if your home has a leisure-inducing outdoor space, then you know the joy of having your own mini outdoor retreat just a few steps away.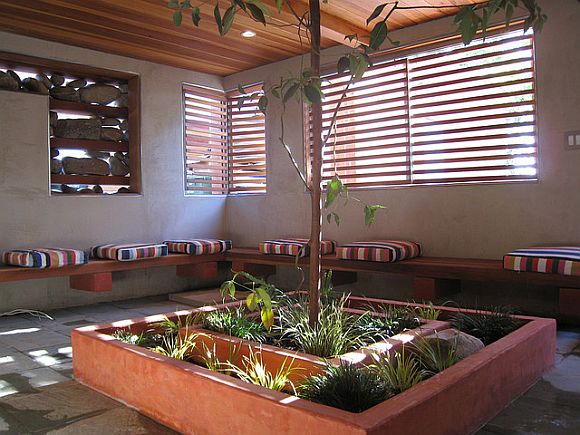 Yet with a few tips and tricks, you can extend the life of your outdoor space so that it's usable nearly year-round, even if you're in an area (like Kansas City) that sees harsher winters. I recently spoke to a local landscape architect who told me that he creates outdoor spaces here in Kansas City that can be used nearly nine months out of the year, and I was blown away by the concept. I thought I'd share my new-found knowledge with you so that you, too, can make an outdoor haven for all seasons.
Beat The Heat
1. Add shade. Make sure your outdoor space has some sort of shaded area — or better yet, a screened-in sun porch. This will give you a place away from the hot summer sun, and if you install some sort of roof over this area, can also protect you from the rain.
2. Ceiling fans. Installing a couple of strategically placed ceiling fans can do wonders for air circulation, keeping you cool on even the stickiest of days. My parents used this trick at their vacation home, and the porch is so comfortable that we fight over who gets to sleep outside!

Stay Warm
1. Built-in heat source. One of the best ways to add heat to your outdoor space is by including a fire pit or chiminea. They can be relatively compact, so they're a great addition even if you're working with a smaller space. And better yet? You have a handy fire that's great for roasting hot dogs or making s'mores!
2. Add accents. Don't be afraid to accent your outdoor furniture with inviting throws and pillows, just as you would inside your home. If you're decorating a screened-in area, you don't have to be as picky about fabrics and materials, since they'll be protected from the weather. In an open area, however, find fabrics that are easy to wash and are microbial, which will help prevent the growth of mold and mildew. Keeping a few cozy throws within arm's reach will warm even the chilliest of nights.
One more outdoor tip? When you're designing an outdoor space, feel free to divide it into sections, much like you would your home. Think of your yard as an extension of your living space–you may have a cooking area, a leisure area and other segments that invite various activities. Then you can furnish and accent those accordingly, creating a multi-purpose retreat that stands up to heat and cold.
Tell us about your outdoor space! And if you're planning an outdoor makeover, we'd love to hear details. Feel free to send photos to us at editor@charlesandhudson.com. You never know – you just might see your backyard paradise on the blog!
Photo: Flickr.com/jeremylevinedesign
The following two tabs change content below.

Katy Schamberger is a Kansas City-based freelance writer, editor, blogger and author who weaves experience as a journalist, magazine editor and Chief Content Officer to create compelling, engaging copy that informs, entertains and inspires action. Oh, and she likes to take photos, too, especially of architecture, food and cocktails. Welcome!

Latest posts by Katy Schamberger (see all)