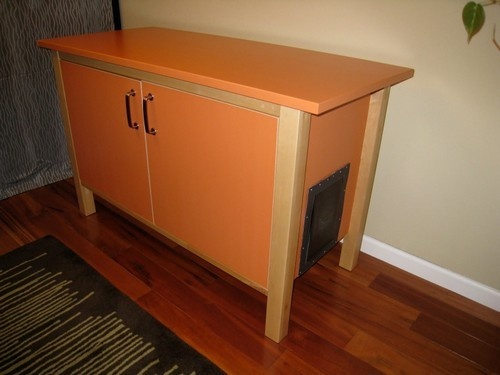 If you're a cat owner like me, then litter boxes just may be the bane of your existence. I didn't so much mind it when I lived in a three-bedroom apartment, but after relocating to a downtown Kansas City loft last summer, I found myself with a predicament: minimal storage and cabinet space + no walls = no litter box hidey hole.
For now, it's perched to the side of our stacked washer/dryer, somewhat hidden from view. And even though I bought a newer, sleeker box, it still screams "THIS IS WHERE MY CATS DO THEIR BUSINESS! RIGHT HERE IN PLAIN SIGHT!"
I turned to my friend Google for a possible remedy, and lo and behold, a plethora of options await. I've compiled a few in case you, like me, are looking for a similar fix.

Lifehacker suggests modifying a piece of furniture to allow for concealment, and the brilliant minds at ikea hacker have several options for transforming Ikea pieces into stealth litter boxes.
A quick perusal of the comments shows a divided opinion on this litter box-planter hybrid, but it may be the ideal solution for someone who prefers not to construct a piece of furniture. Decisions, decisions!
Photo courtesy of Lifehacker.com
The following two tabs change content below.

Katy Schamberger is a Kansas City-based freelance writer, editor, blogger and author who weaves experience as a journalist, magazine editor and Chief Content Officer to create compelling, engaging copy that informs, entertains and inspires action. Oh, and she likes to take photos, too, especially of architecture, food and cocktails. Welcome!

Latest posts by Katy Schamberger (see all)