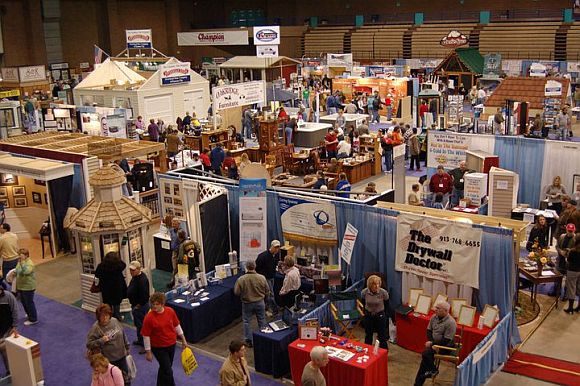 Spring will soon be here, and that means it's prime home show time for much of the country. Whether your city hosts a home show or a combined home and garden event, these expos can be valuable resources of information, products and tips.
Yet they can also be overwhelming, thanks in large part to their size. We've visited our fair share of home shows and have a few tips on how you can maximize your trip for best results.
Prioritize
Before you go to the show, brainstorm about what you're looking for. Maybe you're seeking information on a vinyl bathtub liner, or how you can fix up a garage. Whether it's a specific tool or a more general project idea, identifying what you're looking for will help guide your stops during the show–and ensure you don't get derailed by vendors offering services you don't currently need.

Collect
Take advantage of the literature offered by home show vendors. You'll likely pick up catalogs, information sheets and even samples, which you can go through at home and find what's relevant to your DIY needs. You may want to stash these materials away in a project or reference binder so that you can refer to the resources on an ongoing basis.
Converse
Home shows pack a lot of experts under one roof, so take advantage of the knowledge. Don't be afraid to ask questions and get as much information as you can, especially if you're seeking some type of contracting services. Of course, you'll have to be wary of the hard sell, or of a vendor trapping you into a service or product that you may not need or want.
Check The Schedule
A lot of times, home shows will bring in DIY, decor and other experts to give brief seminars. Check the show's schedule before you go to see if there are any seminars or talks you'd like to attend. They typically don't last more than a half-hour, so you'll have ample time to explore the rest of the show floor. And you may just find yourself with a slew of great ideas, or the chance to ask a specific question about your project or dilemma.
Are you planning to attend a home or lawn and garden show in your area? Let us know how it goes!
Photo courtesy of the Kansas City Remodeling Show
The following two tabs change content below.

Katy Schamberger is a Kansas City-based freelance writer, editor, blogger and author who weaves experience as a journalist, magazine editor and Chief Content Officer to create compelling, engaging copy that informs, entertains and inspires action. Oh, and she likes to take photos, too, especially of architecture, food and cocktails. Welcome!

Latest posts by Katy Schamberger (see all)