For the last several years, I've been keeping a list of features I want in my dream house. They include a library with floor-to-ceiling shelves, a giant kitchen and maybe even a secret passageway. Another thing to add to that list? A hammock, which I'd install in my perfectly manicured backyard.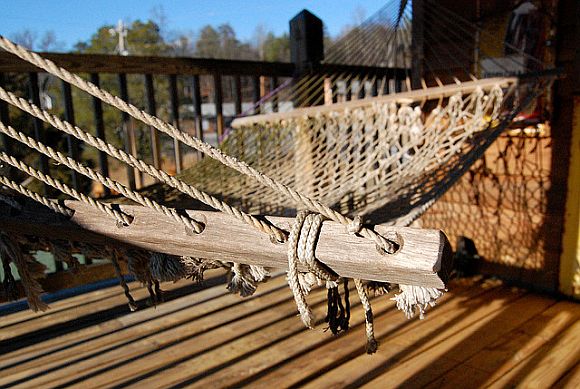 Hammocks have long been the epitome of leisure. And although I think they go best with a sandy beach and a few umbrella-topped drinks, hammocks are a great addition to your yard if you'd like a quiet, relaxing place to read, nap or simply enjoy your surroundings.
Need more motivation to install a hammock at home? NPR recently published a blog that explores why hammocks help facilitate an easy, deep sleep. Nancy Shute writes that Swiss researchers found that the gentle rocking motion produced by the hammock causes people to fall asleep faster and sleep more deeply.

Not only do people sleep more deeply on a hammock, but Shute writes that researchers found a difference in brain activity as a result of the rocking motion. The length of N2 sleep was increased, which Shute writes "is a form of non-REM sleep that takes up about half of a good night's rest."
If you're now inspired to install a hammock, you'll have several types from which to choose. You can hang them using posts or trees, but keep in mind that trees should be a minimum of 12 inches in diameter and made of hard wood. Keep your hammock about four feet off the ground, but six to eight feet is even better.
Do you have a hammock at home? And if not, do you plan on installing one?
Photo: Flickr.com/hager.angie
The following two tabs change content below.

Katy Schamberger is a Kansas City-based freelance writer, editor, blogger and author who weaves experience as a journalist, magazine editor and Chief Content Officer to create compelling, engaging copy that informs, entertains and inspires action. Oh, and she likes to take photos, too, especially of architecture, food and cocktails. Welcome!

Latest posts by Katy Schamberger (see all)