Grabbing a warm, toasty towel right after a shower or bath–it's one of life's little luxuries, isn't it? But instead of relocating your dryer to close proximity of your bathroom, try installing a heated towel rack.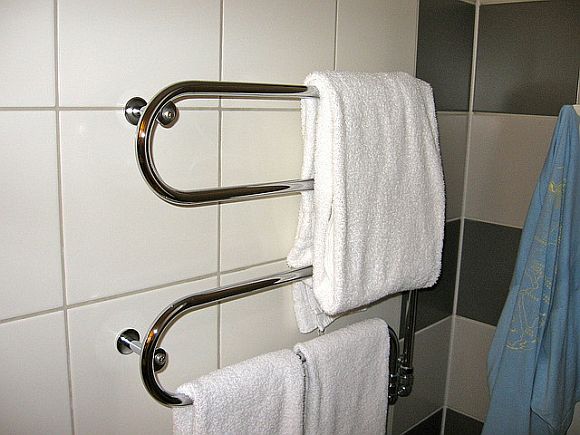 Aside from making your daily bathroom routine more luxurious, heated towel racks help towels dry faster, making them less prone to mildew and keeping them in better condition for a longer period of time. Also, heated towel racks are great for small, damp items like gloves, mittens, socks and delicates.
If you opt for a plug-in towel rack, installation is pretty simple. Just position the rack near a GFI outlet, attach the mounting hardware to the wall, affix the rack and plug it in.

If, however, your home is heated by a radiator and you have return lines that go to your bathroom, you can opt for a hydronic towel warmer, which warms the towels using hot water that's flushed through the towel rack.
Before installing, you'll want to turn off the water supply and drain the water from the radiator. Remove the subfloor beneath the radiator so that you can access the supply and return lines. This will require a re-installation of some of your flooring, so make sure you're prepared to tackle that project, too.
Using a pencil, mark on your bathroom wall where the towel warmer will go. Attach copper piping and fittings so that the supply and return lines reach the warmer. Solder the pipes and fitting (don't forget your safety equipment!)
Attach a threaded copper adapter to the ends of the hot water lines. Reinstall the flooring and mount the towel warmer on the wall using the proper screws and mounting accessories. Once it's in place, connect the shut-off valves and begin running water through the hydronic towel warmer so that you can ensure it works and is properly installed.
Whether you're seeking easy or expert installation, there's a heated towel rack out there for you. Is this something you'd install in your home?
Photo: Flickr.com/photos/garylerude/3556494258/
The following two tabs change content below.

Katy Schamberger is a Kansas City-based freelance writer, editor, blogger and author who weaves experience as a journalist, magazine editor and Chief Content Officer to create compelling, engaging copy that informs, entertains and inspires action. Oh, and she likes to take photos, too, especially of architecture, food and cocktails. Welcome!

Latest posts by Katy Schamberger (see all)