John Deere 1023E Sub-Compact Tractor Review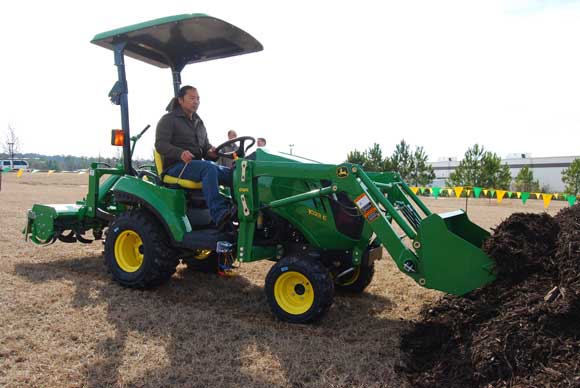 We've had a ton of interest in our John Deere tractor articles so we thought we should provide even more detail on their newest utility tractors. We'll start with the base model from their new 1-series the 1023E sub-compact tractor.
Features
The 1023E is built for the homeowner but that doesn't mean they skimped on the good stuff that the larger tractors have. In fact they pulled more ideas and features than ever from the larger tractors to build the 1023E. These features include the power and performance to easily attach and remove implements, work with greater comfort and safety, and mow large volumes of grass with a high quality of cut.
"Never before has there been this much versatility, comfort and mowing performance in the subcompact tractor market," says Dan Paschke, John Deere Product Marketing Manager. "The 1 Series offers a wide array of features usually seen on larger tractors like a deluxe lighting package, position control 3-point hitch, and great storage for tools."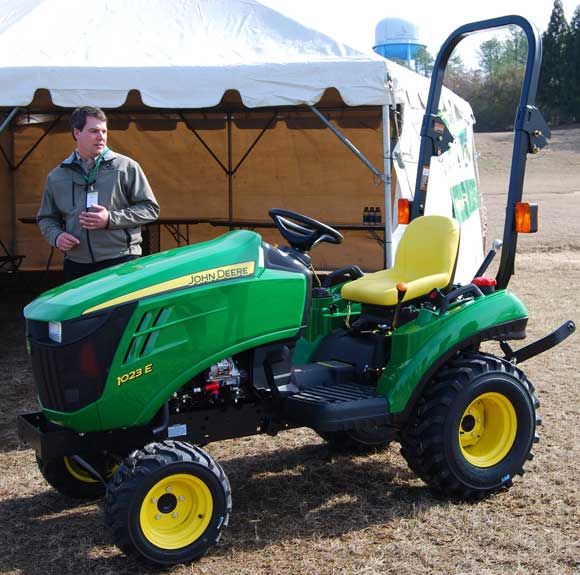 Attachments
The new 1023E (23.5-hp) can accept dozens of attachments and implements, such as front loaders, mower decks, rotary tillers, and even a backhoe. Using exclusive AutoConnect technology, operators simply drive over the top of the mowing deck to attach it to the tractor. In addition, iMatch AutoHitch compatible 3-point hitch implements can be attached or removed from the tractor's 3-point hitch in minutes without ever leaving the seat or using a single tool.
The 1023E has a wide-stance for increased stability, and a standard folding ROPS system for roll-over protection.
When mowing, operators can easily adjust mowing height from the seat of the tractor with the deck height adjustment knob, and process high volumes of grass with the durable 7-IronTM deck, made from 7-gauge steel.
Driving and Loading Test
We had an opportunity to work the front-loader on the 1023E and the control was precise and the loader moved quickly into position. We were working with wood chips but feel confident that even with a heavier load such as sand or rocks, the 1023E would be up to the task.
The tractor is by no means a speed demon but we got around fairly quickly and felt comfortable in the seat. Our feet were firmly planted and the new placement on some of the hand controls was also a plus.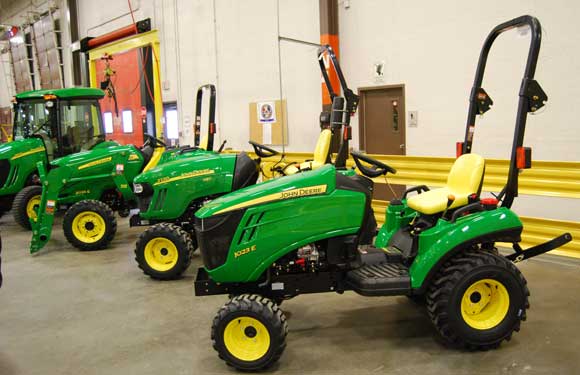 "The 1 Series is the perfect tool for property owners who need to do more than just mow the grass," says Paschke, "With the ability to quickly, easily, and safely change implements with John Deere's exclusive technology, owners will be able to achieve more than they ever expected with a subcompact tractor."