Today felt like a holiday when we received our mail — the new IKEA 2012 catalog sat innocently in our mailbox, its near pristine pages just crying out to be thumbed through. While we are pretty avid IKEA shoppers, we understand that not everyone digs their style, or they may not have one anywhere remotely close in order for them to appreciate fully this great Swedish retailer.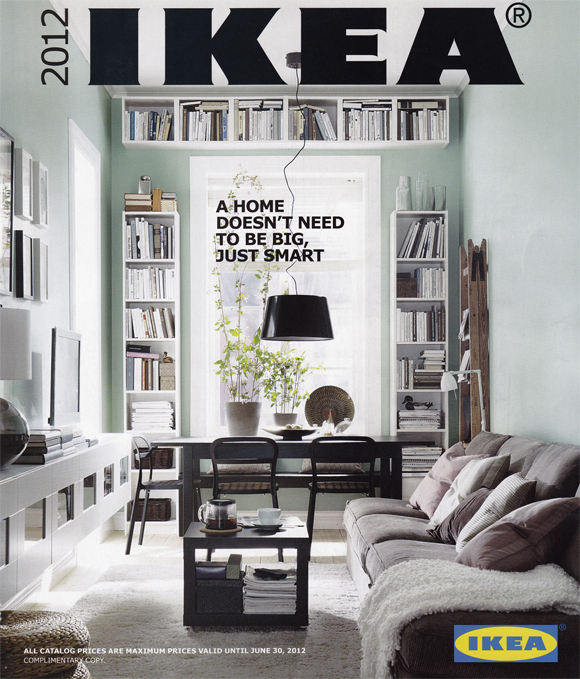 However, after seeing this year's tagline on the front cover and going through the catalog/magazine/lifestyle tome, we think that whether or not you love or have access to IKEA, there are some great lessons that can be gleaned from its shiny pages, and some awesome decor ideas to borrow to boot.

Our personal favorites revolve around utilizing small spaces smartly, especially communal/family spaces. IKEA touts itself as family-friendly and we find such things hard to argue. In a world of shelter mags and lifestyle blogs that continually separate "adult" and "child" spaces or ignore children completely, it's refreshing to see a happy marriage between the two continually displayed for all different kinds of spaces and families. And this year's catalog has no shortage of smart and well-designed spaces to suit your every need.
A tenet of making this possible is making sure that no space is ever wasted. By "space" we don't mean square footage, though that is important — instead, we mean that every room and most pieces of furniture have multiple purposes, not just one activity per room. If you're looking for ways to maximize your space's usefulness without having to acquire more square footage, IKEA is the go-to source for making nearly any space work for almost every situation.
So in the spirit of extreme small space living, we've pulled a couple of pages from the new catalog to show you how easy it can be to make every space multi-functional, no matter if you have IKEA to help you or not.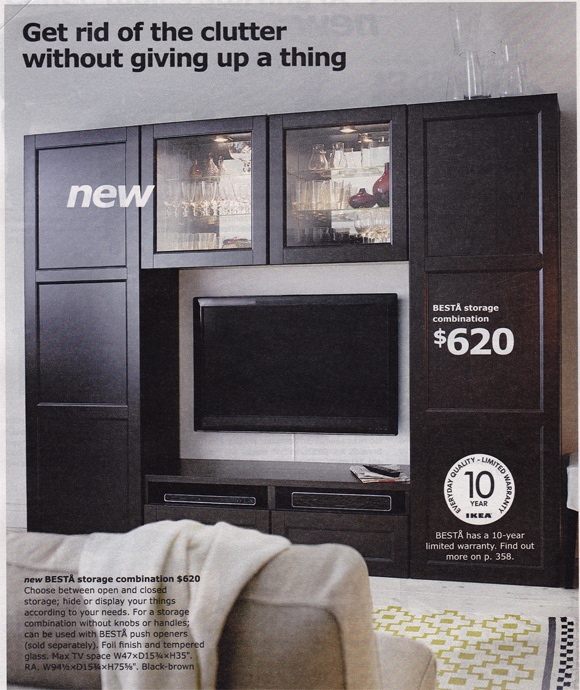 As you can see in the above photo, there appears to be a cohesive entertainment center functioning as the focal point of this room. But wait: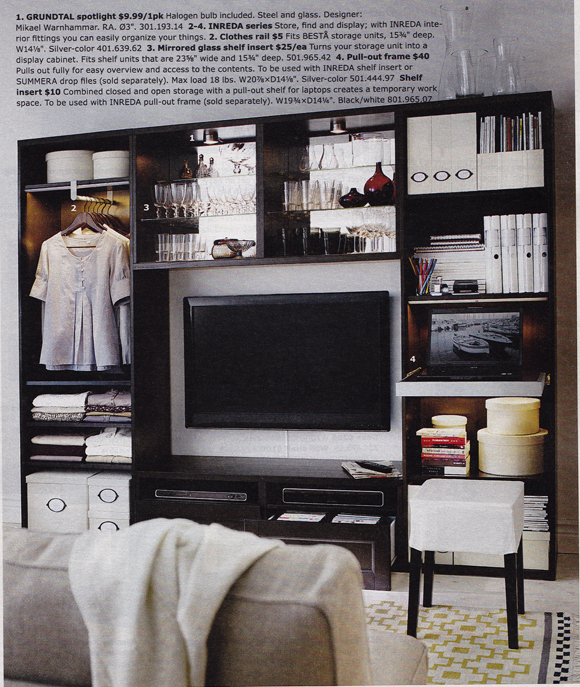 Look at all that storage! We often think that a piece of furniture can only function for one purpose relating to the space it's in, but here you can see that really, if it's behind closed doors or in a tasteful container, it can hold just about anything you can dream. We especially love that it's equal parts closet, entertainment center, and dry bar, all without needing to put your whole life out there. True to IKEA form, this shows how all it takes is some creative thinking and some great organization skills, and any space can work for your lifestyle.
There are several more examples like this in the new catalog — you can view it online, or request a copy through IKEA's website to dig up some inspiration on your own.
What are your favorite IKEA ideas to put into practice? Let us know!
Photos courtesy of IKEA
The following two tabs change content below.

I'm Tabatha. The bare-bones basics about me is that I'm in my late twenties, and I'm a college-educated stay-at-home mom. I'm married to my college sweetheart with whom I have two kids, five cats, and a Chihuahua in our 115 year old house in Dayton, Ohio.

Latest posts by Tabatha Muntzinger (see all)