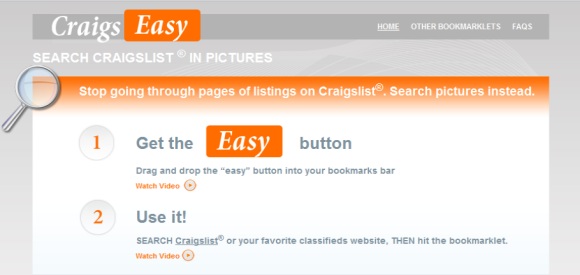 Craigslist can be the virtual mecca for DIY enthusiasts. Whether you're looking for the perfect vintage dresser, discount kitchen cabinets, or gently used children's wares, the free online classified posting site is ripe with deals to be had and items to repurpose.
Yet even with all the tips on how to shop and sell on Craigslist, pouring through those endless links to listings can be mindnumbing. Thankfully, a new site called CraigsEasy has streamlined the process even further.

With CraigsEasy all you have to do is drag their "easy" button into your toolbar, then open Craigslist (or any other classifieds site, such as Kijiji or Ebay classifieds), click where you'd like to search, then hit the easy button. Within seconds listings appear as photos, with the title and date of the post displayed clearly. All you have to do is click through to the listing to view, and there's even an extra favorite button at the top to bookmark items of interest.
Of course, with listings made to be visually stimulating instead of just endless links, a bit of caveat emptor should be practiced — it's all too easy to spot something you'll fall in love with!
Have any of you used CraigsEasy, or another tool to make Craigslist simpler to use? Share your ideas and experiences with us in the comments!
The following two tabs change content below.

I'm Tabatha. The bare-bones basics about me is that I'm in my late twenties, and I'm a college-educated stay-at-home mom. I'm married to my college sweetheart with whom I have two kids, five cats, and a Chihuahua in our 115 year old house in Dayton, Ohio.

Latest posts by Tabatha Muntzinger (see all)