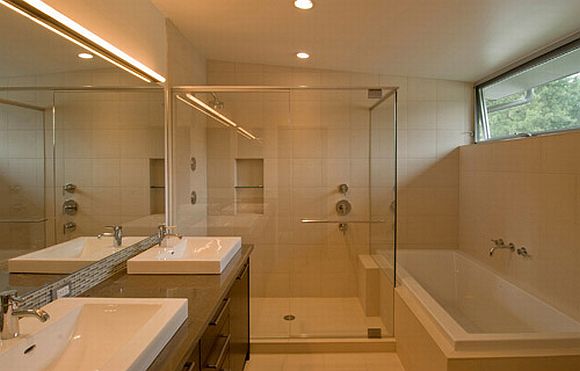 The bathroom is, arguably, one of the most important rooms in the home–and certainly the most personal. Whether your bathroom style is modern, classic, minimalist or spa-like, selecting the ideal fixtures, components and decor can go a long way in not only making your bathroom pleasing to the eye, but also functional.
As bathroom design continues to evolve, modern elements have been introduced that provide increased functionality while making the most of existing space. Build Blog has an in-depth look at several modern shower details, but we thought we'd give you a sneak peek.
* Shadow box: Installed into the depth of a framed wall, a shadow box is a great way to add storage without compromising the look of a modern shower. If you can't make the shadow box as wide as you would like because of the placement of wall studs, consider making the shadow box longer and installing a glass shelf for increased storage capacity.

* Beauty step: This small tile step is unobtrusive, yet is a convenient addition (ladies, we think you'll agree!) Build Blog recommends conforming the geometry of the step to the existing tile pattern for a seamless design flow.
* Shower light: This is one of those additions that you didn't realize you needed — until you install it! A recessed can light will do the trick, and Build Blog adds a white vapor-proof trim to withstand the humid shower environment.
Have you personalized your bathroom with these or any other thoughtful additions? Let us know!
Photo courtesy of Build Blog
The following two tabs change content below.

Katy Schamberger is a Kansas City-based freelance writer, editor, blogger and author who weaves experience as a journalist, magazine editor and Chief Content Officer to create compelling, engaging copy that informs, entertains and inspires action. Oh, and she likes to take photos, too, especially of architecture, food and cocktails. Welcome!

Latest posts by Katy Schamberger (see all)