Creating a perfectly functional workspace can take some time. It all starts with the desk, which provides the surface and space you need to be productive and/or creative. If you're like me, you might keep a notepad nearby to jot ideas, reminders and the occasional doodle. Instead of paper, however, you can install a chalkboard panel straight into your desktop for an eye-catching and sustainable note-taking solution.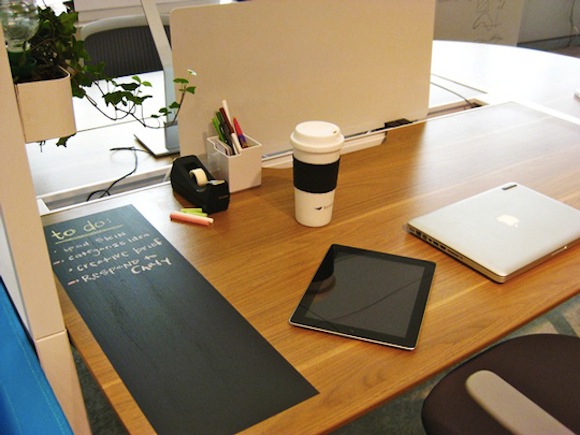 Plus, there's something appealing about the juxtaposition of a classic element, like a chalkboard, with tech gadgets like laptops, iPhones and iPads. Intrigued? Make plans to tackle this weekend project ASAP.
Thanks to our friends at ApartmentTherapy for leading us to Turnstone, which includes a complete project guide. First up? Supplies!
*Rustoleum Chalkboard Paint
*Ruler
*Masking tape
*Pencil
*Paintbrush
Clear off your desk and decide the size of the space on which you want to paint. Mark the area with masking tape.

Crack open your paint and mix it well. Try to paint in long, continuous strokes that cover the length or width of the space — this helps ensure a smooth texture when you're done. If you like, use a sponge brush instead of a paint brush.
Let one coat dry before you paint another. The thickness is up to you, but at least two coats is recommended.
Allow the paint to dry for at least 48 hours before removing the masking tape. Voila! A built-in chalkboard! Grab some chalk and let your inner schoolteacher out.
Will this project make your to-do list?
Photo via ApartmentTherapy
The following two tabs change content below.

Katy Schamberger is a Kansas City-based freelance writer, editor, blogger and author who weaves experience as a journalist, magazine editor and Chief Content Officer to create compelling, engaging copy that informs, entertains and inspires action. Oh, and she likes to take photos, too, especially of architecture, food and cocktails. Welcome!

Latest posts by Katy Schamberger (see all)