It's sad, but true — the days are quickly growing shorter. In mere weeks, we'll fall back during Daylight Saving Time and lose a few hours of evening light.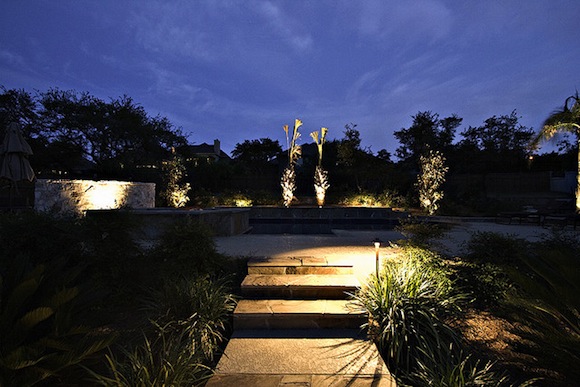 Now is a great time to make your home cozier and more welcoming, especially with cold weather and the holidays around the corner. Consider installing landscape lighting, which will help illuminate your home's exterior, which helps during times of less daylight. Plus, landscape lighting adds a welcoming glow to your home and is a great way to boost curb appeal.
Most landscape lighting systems can be self-installed. The most important step is to pick your system. They can vary in price depending on the lighting fixture style and system complexity. Consider a lantern-style system that exudes a more classic appeal and will work with most types of home exterior styles.

Once you've purchased your system, it's time to install! Unpackage the materials and lay out the materials along your home's walkway, porch or driveway. Use a shovel to turn over your grass or sod so that you can bury the lighting system's electrical cable.
Plug in the lighting system to the transformer and make the holes to accommodate the electrical fixtures. Once the holes are ready, connect the electrical components, install the lights and replace with the loose sod or grass, making sure the material is securely packed around the light fixtures.
And voila — landscape lighting!
If you have landscape lighting installed at your home, we'd love to hear your picks for a lighting system.
Photo: Flickr.com/OLP_SanAntonio
The following two tabs change content below.

Katy Schamberger is a Kansas City-based freelance writer, editor, blogger and author who weaves experience as a journalist, magazine editor and Chief Content Officer to create compelling, engaging copy that informs, entertains and inspires action. Oh, and she likes to take photos, too, especially of architecture, food and cocktails. Welcome!

Latest posts by Katy Schamberger (see all)