Although carpet still makes up the majority of flooring sales, you can't deny the popularity–and prevalence–of hardwood floors. The durable material makes it great for a variety of rooms, and with woods available in a wide range of colors and textures, you can typically find what you need to complete your home's look.
The downside? Hardwoods can be expensive. You might want to consider this ingenious alternative: plywood.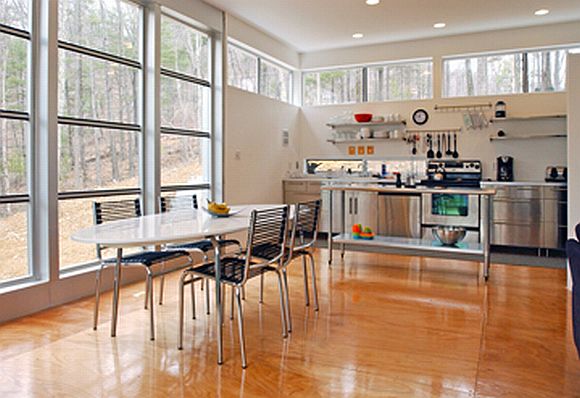 Our friend at Curbly, the DIY Maven, alerted us to plywood flooring. Like hardwood, plywood comes in a plethora of colors and textures. And you can always paint or stain it if you can't find exactly what you're looking for. One of plywood's biggest advantages is its cost. You can typically floor an entire room for a fraction of the cost of hardwoods, making this an ideal choice for the budget-conscious DIYer.

Another bonus? Plywood flooring is relatively easy to install. You'll want to have your wood cut into planks, and then attach those to your floor using flooring nails. You can then choose to seal the floor for a shiny finish, or leave as-is for a raw look that would be an ideal complement to exposed pipes and other "unfinished" elements.
Have you tried plywood flooring in your home? We'd love some firsthand feedback! If not, would you consider this as an alternative to hardwoods?
Photo courtesy of DIY Maven
The following two tabs change content below.

Katy Schamberger is a Kansas City-based freelance writer, editor, blogger and author who weaves experience as a journalist, magazine editor and Chief Content Officer to create compelling, engaging copy that informs, entertains and inspires action. Oh, and she likes to take photos, too, especially of architecture, food and cocktails. Welcome!

Latest posts by Katy Schamberger (see all)