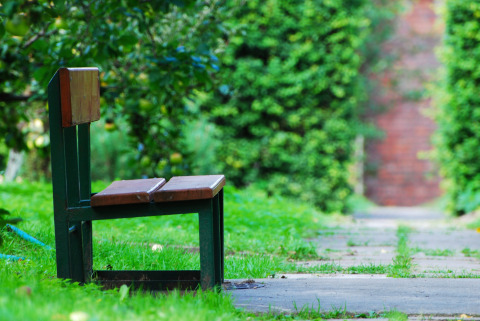 The beauty of a path is that it directs you (obviously). But a well built and properly designed path can do so much more for your home.
Pavestone is the perfect material to use for your walkway. These handy, pre-formed cement pavers can give you the look of anything from flagstone to contemporary geometric shapes. They're also usually more economical than the real deal.
Pick colors to match your landscape, shapes to startle or simply blend in and textures of all kinds.
Follow these tips for laying your pavestones.

Welcoming Pathways
Think of your front entrance. The pathway that leads to the front door says a lot about the home owners inside. Industry advice states that to create a welcoming entrance way it's important to have a path with a wide opening that narrows as it gets to your door or porch.
Secret Gardens
Another landscaping secret is to design different "zones" within your yard. This can be simple stuff, like having focal points set out in various parts of the yard, arranging seating areas in spots or creating private nooks that seem a place apart. Think hammocks tucked in the shade or lounge chairs and couches just out of view.
All of these elements can be tied in together with pavestone walkways. Direct the wanderer in a subtle way with pavestone pathways wound around the yard.
Create Illusions
Pathways are also good for creating illusions of your space. Small yard? Make sure your pathways curve or bend. The wavy line makes even the smallest space look longer or deeper.
Going for a modern flair? Build a straight pathway in square or rectangular paving stones. This will set a calm, clear mood that lends itself well to the modern look.
Pavestone is easy to install with a solid base and a little muscle. Mix and match pavers for different applications or buy a whole skid and have at it.
Your yard will flow better and be more enjoyable with pavestone walkways.
photo courtesy of Mateusz Stachowski/sxc
The following two tabs change content below.

Founder/EIC
at
Charles & Hudson
Timothy's background includes stints at This Old House, ELLE DECOR, Metropolitan Home and Woman's Day. His work has been published on Wired Design, Bob Vila, DIY Network, The Family Handyman and Popular Mechanics and he has been featured on the Martha Stewart radio show and as a speaker at the ALT Design Summit, K/BIS and the National Hardware Show.

Latest posts by Timothy Dahl (see all)