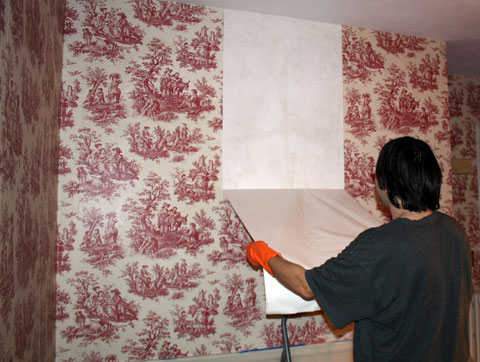 My friend Marc (of the demolished kitchen fame) asked me one day if I knew of any "backwoods" methods of removing wallpaper from plaster walls as to prevent damage from being done. I didn't – we just tore down the walls that had wallpaper on them (but regretfully so – the paper was gorgeous and vintage, but the plaster behind was as rotten as a jack o'lantern at Thanksgiving).
However, as someone with a house still 80% full of plaster walls and dreams of wallpapering, I figured it was something worth researching.
So after putting my sociology degree to good fact-finding use, I present you with the Internet's best resources on removing wallpaper from plaster walls:
Hands down, this eHow article is the most direct with information, making it a winner in my book. It describes the process in painstaking step-by-step detail, and it gets bonus points for first using vinegar – a non-toxic, enviro-friendly and cheap solution to a messy problem.

Coming in second is this WikiHow article which gets some cred for the sense of humor, but its inability to decide if it's talking about drywall or plaster walls is slightly disconcerting.
And third is this This Old House question and answer page, which had all the potential to really nail it, but the concentration more on the paint part of the question instead of the removing of wallpaper part leaves me feeling a bit like I'm not completely being listened to.
What about you; do you know of any "backwoods" methods of removing wallpaper from delicate walls? Or have any horror stories on trying to remove wallpaper from any surface? Be a friend and spill it in the comments.
photo: firepile
The following two tabs change content below.

I'm Tabatha. The bare-bones basics about me is that I'm in my late twenties, and I'm a college-educated stay-at-home mom. I'm married to my college sweetheart with whom I have two kids, five cats, and a Chihuahua in our 115 year old house in Dayton, Ohio.

Latest posts by Tabatha Muntzinger (see all)