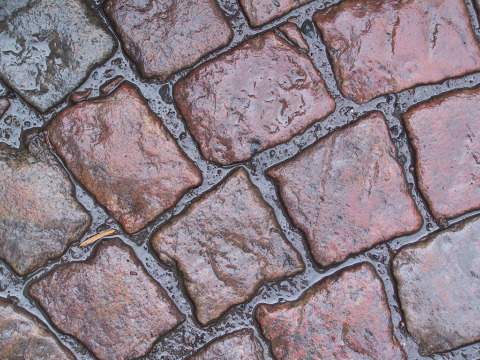 Spring is a time for new beginnings and fresh air. It's also the time to get out on the patio and notice the toll that freezing temperatures have taken on your patio.
Brick Patio Problems
Maybe you left your heavy umbrella stand or BBQ out on your brick patio over the winter. You will likely notice that the stones underneath the weighted object have sunk or sit lower than the rest.
The problem is that the balance of your patio stones or bricks shifted with the thaw/freeze cycle (like they're supposed to) and the weight has kept those particular ones firmly in place.

You might be surprised to learn that the best time to fix this problem is not now. You need to wait until the spring moisture has disappeared and the firm, dry summer conditions have started.
That way you can be sure that the repaired bricks will be in the proper location and will stay there. Sounds like something to do in June.
Next winter, store the weighted objects in a shed or simply leave them on a garden bed or the lawn.
Mortared Patio Problems
Your flagstone patio (or other mortared stone) might be laid on a rigid base instead of the more traditional gravel or crushed stone.
In this case, the frost of winter will cause shrinkage in the concrete slabs and cracking in the mortar. It should be fixed up right away.
With a chisel, chip out the cracked and broken mortar, being careful not to damage the stone. Use a brush to clean out the area well.
Mix up a mortar repair batch using Portland (three parts) and sand (five parts) with just enough water to make it moist. It should still hold its shape well, not become a runny mess.
Trowel in the mortar and firmly tamp down the whole area together.
Spring is the perfect time to flex your outdoor DIY muscles and get a little dirty. Your patio will look fresh and clean, just like the new spring air around you.
photo courtesy of Erik Hutters – sxc/erix
The following two tabs change content below.

Founder/EIC
at
Charles & Hudson
Timothy's background includes stints at This Old House, ELLE DECOR, Metropolitan Home and Woman's Day. His work has been published on Wired Design, Bob Vila, DIY Network, The Family Handyman and Popular Mechanics and he has been featured on the Martha Stewart radio show and as a speaker at the ALT Design Summit, K/BIS and the National Hardware Show.

Latest posts by Timothy Dahl (see all)