Imagine the scenario: you're out running errands up the street, or taking a family walk, or driving through the neighborhood on trash day and suddenly you see an amazing piece of furniture discarded. It has great lines or bones, just needs some TLC … but alas! It's too big for you to carry on your own or won't fit in the vehicle you're currently in and if you leave it you know someone else will certainly snatch it up. So what do you do? Drag it home yourself and potentially destroy it? Walk away defeated, lamenting the loss of awesome and free projects?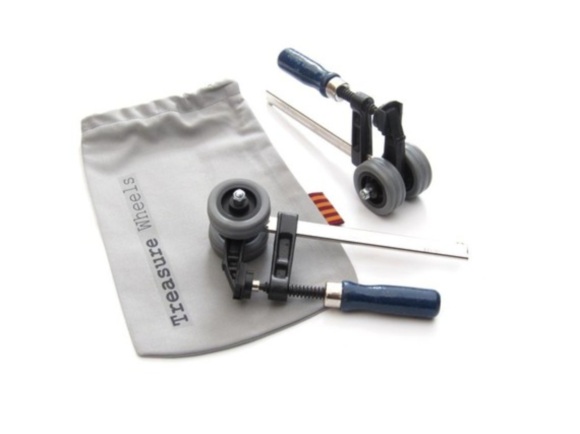 Well, now you'll be able to pop out your Treasure Wheels and take that end table, sofa, or other non-pliable surface home with you right away!
Created by Yael Livneh of Israel and available for purchase through Etsy, these handy-dandy little devices are made for the scavengers and dumpster divers we all know and love (or are).

Per the listing, "Treasure Wheels are an urban dolly kit that fits in a satchel and are a must-have tool for urban scavengers. The Treasure Wheels can carry a load of 150 lbs. The kit includes the wheels, a distinct satchel and a pair of braces to attach the wheels to the carried item. Treasure Wheels lets you wheel those urban treasures home. You simply attach the wheels to the artifact of your fancy, and get rolling!"
We think these are ingenious for not just for urban scavengers, but could be a great asset to any tool kit. Want to pop into Ikea and end up with a unexpected purchase from the As-Is section? Treasure Wheel that to your vehicle at the other end of the (mile-long) lot. Need to move your dining room table out of the way so you can work on replastering your ceiling but are the only one home? Treasure Wheels. Heck, we image they might be quite handy for apartment and dorm dwellers and really anyone who doesn't have the storage space (or brute strength) for a dolly. Pretty much this is one of those products that make you want to facepalm and wonder why you didn't think of it first.
What say you, fellow DIY enthusiasts? Do you think Treasure Wheels are the answer to a scavenger's prayers, or do you know of an even better method of hoisting your discoveries home? Let us know in the comments below!
Photo: http://www.etsy.com/listing/71107130/treasure-wheels?ref=af_you_favitem
The following two tabs change content below.

I'm Tabatha. The bare-bones basics about me is that I'm in my late twenties, and I'm a college-educated stay-at-home mom. I'm married to my college sweetheart with whom I have two kids, five cats, and a Chihuahua in our 115 year old house in Dayton, Ohio.

Latest posts by Tabatha Muntzinger (see all)