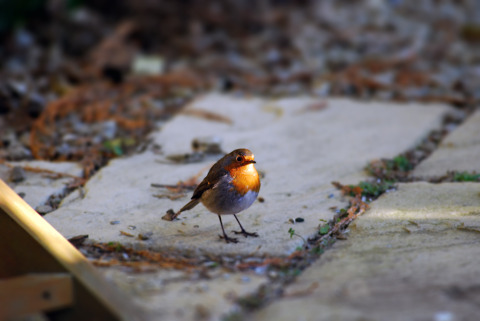 When spring comes and the snow melts away, dirt and grime are bound to be left behind. Pick a sunny day and get outside to give the deck or patio a good cleaning.
Make sure that the temperature is high enough to avoid freezing the diluted cleaning solution.

1) Gently clear away any remaining ice or snow patches on the patio with a broom or plastic shovel. This will remove any heavy debris as well, leaving just the stains and build up from the snow.
2) Buy a concentrated cleaner that works for both wood and concrete for the most versatility. Dilute the solution as per the instructions on the bottle.
3) Using a shop broom or a long handled scrub brush, clean the deck or patio surface. Start from one side and move all of the way across. The cleaning solution will likely foam a little (like soap) and the liquid in the bucket will get dirty faster than you think. Change up to clean solution as you feel the need to. Most brands will clean between 100 – 200 square feet of surface with each mix.

4) Check to see whether the solution needs to soak on the surface before being rinsed off. Sometimes this helps with stubborn stains – mop first with the solution, let sit and then scrub before rinsing away.
Only use a pressure washer for rinsing if your deck or patio surface can handle it. Check the manufacturer's website. (Many composite decking manufacturers do NOT recommend the use of pressure washers on their products.)
5) Rinse with a hose sprayer and apply cleaner on any stubborn stains or still dirty surfaces.
You shouldn't need to clean vertical surfaces (fencing or railing for example) every year. Use your discretion to set up a regular cleaning schedule for those spots.
Decking and patio surfaces require cleaning in the spring and possibly in the fall as well to discourage the growth of mold and mildew.
Once the deck or patio is clean, you're ready to get the furniture, BBQ and anything else back up on it. Patio party season is almost here.
photo courtesy of sxc/psychoPxL
The following two tabs change content below.

Founder/EIC
at
Charles & Hudson
Timothy's background includes stints at This Old House, ELLE DECOR, Metropolitan Home and Woman's Day. His work has been published on Wired Design, Bob Vila, DIY Network, The Family Handyman and Popular Mechanics and he has been featured on the Martha Stewart radio show and as a speaker at the ALT Design Summit, K/BIS and the National Hardware Show.

Latest posts by Timothy Dahl (see all)