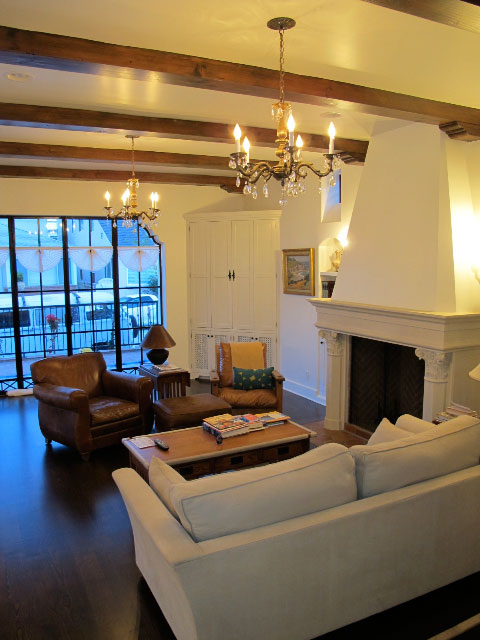 When my friends Bob and Anne Marie were sourcing lighting for their new house in Hermosa Beach, California, they bypassed home improvement superstores and specialty shops.
Instead they rose at the crack of dawn and headed straight to the Long Beach Antique Market to scour the wares of hundreds of dealers. Mickey Goldin had just what they wanted: a vast selection of vintage chandeliers.
After previewing the inventory at the market, the couple spent two hours sorting through a graveyard of lighting odds and ends at Goldin's warehouse. Bob and Anne Marie were fortunate to find a matching set of chandeliers for their living room (pictured).

In raw form, they had broken arms, no crystals, and different finishes. Goldin refurbished and rewired the fixtures in about a week. Total cost, including labor, amounted to $400 ($200 per item) – not bad for one-of-a-kind antiques.
For an alternative to big-box retailers, search out local antique markets in your area.
The following two tabs change content below.

Jennifer M. Volland is an independent writer and curator based in Long Beach, California. She conceived and co-curated the exhibition and publication Grand Hotel: Redesigning Modern Life for the Vancouver Art Gallery (2013). She is co-author of Edward A. Killingsworth: An Architect's Life (Hennessey + Ingalls, 2013) and Long Beach Architecture: The Unexpected Metropolis (Hennessey + Ingalls, 2004). Her writing has appeared in the Los Angeles Times, CITY, Environmental Graphics Magazine, Sunset, Arcade journal for architecture and design, and Western Interiors and Design, among other print and online publications.

Latest posts by Jennifer Volland (see all)