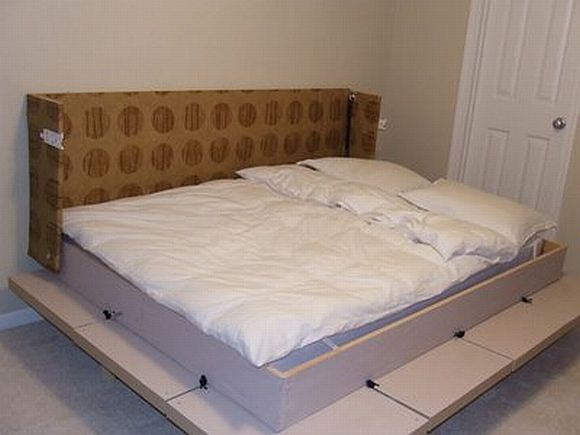 If your home is short on space, a Murphy bed can be a great way to maximize minimal square footage while ensuring you get a good night's sleep.
And as is the case with a variety of DIY tasks, you can select your ideal Murphy bed based on your skills and budget. You could opt to buy an already-assembled kit, meaning you'll simply need to install the necessary hardware with the bed.

If you prefer a more involved project, you can also build the bed yourself before installing. For an inexpensive option, the Moddi Murphy bed uses parts purchased from a hardware store or Ikea, and a twin bed can be assembled for around $275.
Before you build (or install) your Murphy bed, you'll want to carefully examine your space to determine the bed's optimal placement. Although the space around the bed can be used when the bed is secured against the wall, you may want to choose a more empty area of your room so that you're not moving furniture or stuff out of the way every night.
You'll also want to locate the studs within the desired wall to provide maximum support for the bed. Attaching the bed to a minimum of three studs is recommended.
Are you a fan of the Murphy bed as a space-saving technique? And if you live in a small space, what are your tips for maximizing precious square footage?
Photo courtesy of Apartment 528
The following two tabs change content below.

Katy Schamberger is a Kansas City-based freelance writer, editor, blogger and author who weaves experience as a journalist, magazine editor and Chief Content Officer to create compelling, engaging copy that informs, entertains and inspires action. Oh, and she likes to take photos, too, especially of architecture, food and cocktails. Welcome!

Latest posts by Katy Schamberger (see all)